2018-2019–HAVYN STEELE: MOST LIKELY TO TRAVEL THE WORLD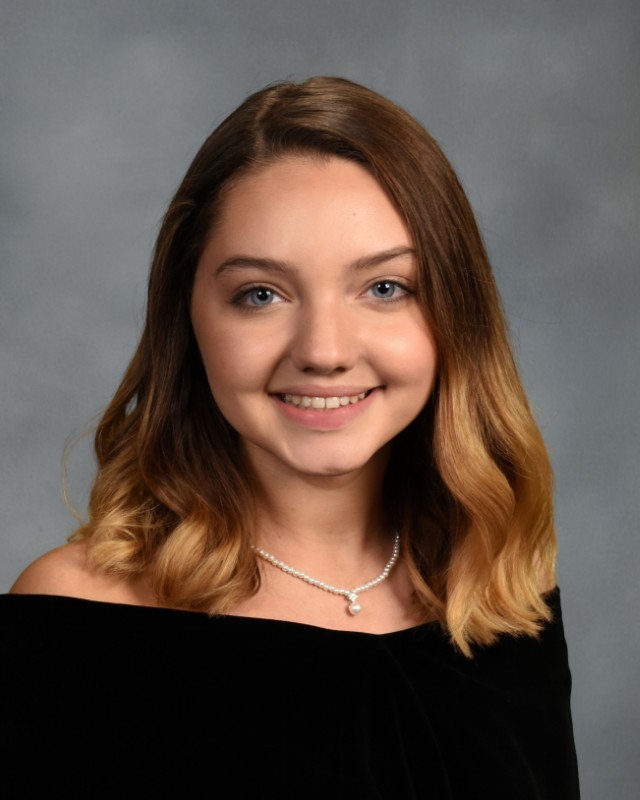 Hardworking senior Havyn Steele has participated in Student Government, Class Cabinet, PYLN, and Neighborhood Watch Committee during her high school career. She will continue her education at Muhlenberg College and major in research psychology with aspirations of opening her own practice as a clinical psychologist.  
 What do you hope people will remember about you after high school is over? 
I hope that people will remember me by the type of student I was and as someone who was always willing to participate and go the extra mile in activities in and out of school. 
Who will you remember most in Bangor and why? 
Mr. Nelson, what a guy. 
What is your best high school memory and why? 
My best high school memory would have to be Friday night football games cheering with the Quarry Crew. There's nothing like getting painted up with the Quarry Crew and cheering on your classmates. 
What is your worst high school memory and why? 
Getting dress coded by Mr. Boyd for wearing ripped jeans. 
Which band could play the soundtrack to your high school career and why? 
Probably the Jonas Brothers because they have been my favorite since 2009 and probably will be until the year 3000 when nothing has changed but we live underwater. 
If there were a movie made about your high school days, which actor would play your part and why? 
Angelina Jolie because I love her and someone told me I look like her once, so I'm going with it. 
When you arrive at school in the morning, where is the first place you want to go and why? 
PE Helper for gym with my Cassie girl. 
Who influenced you most during high school? Why and how? Give them a shoutout! 
Mr. Hachtman and Mrs. Brown, I can honestly say I have learned so much from both of them and they have both made such a huge impact on me in the last 4 years. I heart you two.  
Where do you hope to end up 10 years from now and why? 
I hope to be working in a lab in Boston somewhere. 
Which event, events will you miss the most and why? 
Definitely the yearly Bangor versus Pen Argyl game and bonfire. It is always the best time of the year and it just always makes me so proud to be a Slater.  
What is your favorite quote to live by and why is it important to you? 
My favorite quote is "Life's a party rock your body" which was said by Marcel the Shell. I love this quote and I feel like it describes me so well because it just reminds me not to take life too seriously and to just enjoy living in the moment.  
Where is your ideal vacation destination? Please explain.  
My ideal vacation destination is definitely Singapore. I went there in November for a day before I went on a cruise with my family and I really want to go back one day. It was so beautiful there and everyone was so nice.  
What is the most exotic food you have tried while traveling? 
Probably "ice cream" in Thailand which was actually just cream, a weird green jelly, and ice thrown together in a bowl. Oh, and did I mention there were bugs in it?  
What celebrity is your ultimate travel buddy? 
Again, it would have to be Angelina Jolie. 
Are you a suitcase or duffel bag person? 
A (multiple) suitcase person. I don't think there is a duffel bag big enough. 
What is one travel tip you have for aspiring world travelers? 
I would say know what the normal prices for things are in the currency you'll be using because there will be a lot of locals trying to scam you if they realize you're a tourist. Also, never pay more than 40 baht for a tuk tuk ride.