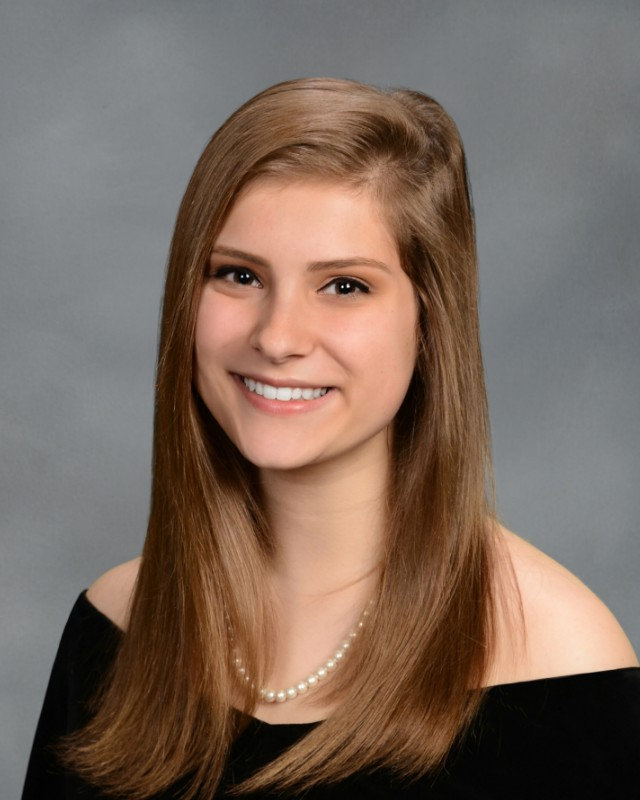 You've seen her name under countless articles. You've seen her name pop up on your phone on numerous occasions trying to get one more quote for her latest article. You've probably even seen her behind a camera lens taking thousands of pictures for the yearbook. Senior Meagan Hoffman has been the girl behind The Slater Newspaper for the past four years and she would not have wanted to spend her time any other way.
Back in the day, when Hoffman was just a young 8th grader, she carefully selected her classes for her freshman year of high school. Little did she know that choosing journalism as one of her courses would have such a big impact on her high school career.
"I knew that I really enjoyed writing and that I had passion for it. I don't specifically remember who was helping me choose my classes, but all I know is that they pushed me to sign up for journalism," Hoffman said. "It wasn't until I actually got into the class when I realized that I found writing articles a lot more enjoyable than writing essays for any other English class. Plus, anyone would enjoy the gratifying feeling of having their own work published in an established newspaper."
As a freshman, adjusting to this new style of writing proved to be a difficult task for Hoffman, but she was eager to learn the ropes of writing an article.
"One of the biggest obstacles I had to overcome while learning how to write for the newspaper was getting to the point and avoiding 'fluff.' An essay for an English class wants those extra little details, but a newspaper article wants straight facts. It was difficult for me to include my own personal writing style into the articles without adding unnecessary information," Hoffman said.
Hoffman was a quick learner, and as she began to write more and more articles for the newspaper, she gradually became more confident in her writing.
"I definitely faced a lot of challenging articles, but the most challenging part about writing for the newspaper in general was facing the dreaded red pen. Handing my edits of each article to Mr. Madden was a daunting task because I knew when he was done with it, it was going to be shredded to pieces," Hoffman said. "The rebuilding process of each article was different, but every time I gained confidence in my writing skills and I knew that the next edit would be better than the last. Facing constructive criticism may have crushed my writing confidence, but once I realized that even the best writers have their edits torn apart, I understood that it was just part of the learning experience."
With one year of writing articles under her belt, Mr. Madden was rather impressed by Hoffman's improvement so he declared her an editor for the newspaper.
"In the beginning of my sophomore year, Mr. Madden and I had a serious discussion about what it would take for me to become an editor of the newspaper. He said that my writing skills were there, but I just needed to become a little more independent in order for him to award me the responsibilities of editor," Hoffman said. "Once I finally stepped outside of the box and proved to him I could handle it, he rewarded me with the title of editor."
From that point on, Hoffman rose to new heights as editor. Pumping out articles left and right, while also helping her fellow classmates with their articles, Hoffman crushed her editor position. With that being said, it was no surprise that Mr. Madden rewarded her with the title of Editor in Chief her senior year.
"When I found out that I was going to be the Editor in Chief, I was so honored and relieved that my hard work had paid off. It was a major goal of mine checked off my list," Hoffman said. "The best part about being editor in chief was actually being able to help others with their writing skills. I remember former Editor in Chief Christina Bubba coming up to me with edits on my articles and feeling grateful that I had a mentor to help me tweak and improve my writing skills. I definitely loved having the ability to do that now for other aspiring journalists just entering the world of journalism."
As if juggling the many tasks of being the newspaper's editor in chief wasn't enough, Hoffman was also in charge of helping out with the yearbook this year. From reviewing pages, to placing portraits, to taking pictures, Hoffman was a huge help to the yearbook staff.
"It was challenging to work on the yearbook this year because we were short staffed and we didn't have the yearbook veterans with experience like we usually do. We were all learning together as a class how to piece together and design an entire yearbook, which became overwhelming at times," Hoffman said. "It was all hands on deck at all times trying to grind out this yearbook. Eventually, after completing it, I feel like I almost enjoyed the chaos because it proved to all of us just what we were capable of."
Whether it was working on articles during an independent study hall or staying after school to help finish a page for the yearbook, Hoffman spent the majority of her high school career in Room 123, and she is extremely grateful for the time she has spent with Mr. Madden.
"Entering into high school I never imagined that I would have such an amazing mentor as Mr. Madden. He took me under his wing starting freshman year and really molded me into the young writer that I am today. Whether it be pulling me aside to go over each paragraph in my articles to perfect them, or just listening to my frustrations during my times of writer's block, Mr. Madden helped me through it all," Hoffman said. "Once I expressed serious interest in journalism as a career, he even helped me network and make connections with other experienced journalists. Words could never express my sincere gratitude towards Mr. Madden for positively impacting my life."
Through Mr. Madden's support and guidance, along with her growing passion for writing articles, Hoffman knew that she wanted to major in journalism/communications at college. With her major set, all Hoffman needed to do was choose where she would continue her education. After seeing Penn State for the first time, the choice was easy.
"I knew that Penn State was right for me after attending the first football game. I had researched the school's academics and their connections were impressive, so I knew I would be getting a top education at PSU," Hoffman said. "Once I attended the white out game against Michigan in 2017, I was sold. Walking into the stadium and seeing 100,000 other people cheering on one team, I knew that attending here would make me a part of something bigger. My heart was filled with joy hearing all of the fans singing and cheering together, and I had chills throughout my entire body when 'Sweet Caroline' started. I stood there in amazement just taking in as much as I could."
Taking on such a grand campus like PSU may be daunting to some, but Hoffman can't wait to embark on this new journey.
"One of the most important pieces of information that the tour guides tell prospective students is despite Penn State being one of the largest schools on the east coast, it has the opportunity to feel like a small school," Hoffman said. "While the campus is quite large, I definitely felt right at home and it didn't feel overwhelming. I'm excited to make small group of friends at college and conquer these next four years."
Besides cheering on the team at Beaver Stadium every Saturday, Hoffman is looking forward to meeting new people, becoming independent, and writing for PSU's student newspaper The Daily Collegian.
The students and teachers here at BHS are very thankful for Hoffman's devotion to The Slater Newspaper and we wish her the best of luck as starts her next adventure at Penn State.