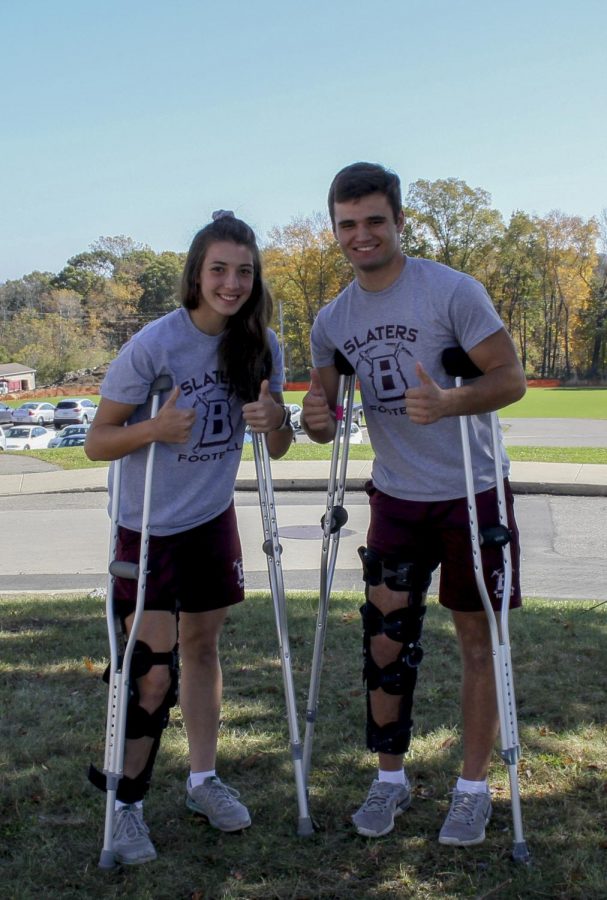 This year to celebrate the 100th Bangor vs. Pen Argyl football game students continued the tradition of spirit week (October 21-25), but with a slight twist. All of the themes this year were tied to this historical 100th game. Here's how students demonstrated their Slater pride.
Along with organizing spirit week, Student Government promoted the rivalry through a series of games and contests taking place during lunches. These lunch festivities and prizes were organized to inspire additional school spirit among students. 
Monday- The Knights See Double
Hundreds of "Bangorian" twins confused the Knights. Twin day, a spirit week classic, allowed for students to be creative and collaborate with friends. It offered a day where the awkward accidental twinning didn't occur. In fact, those who could most closely match outfits, shoes, hairstyles, and more were seen as the best twin pair. 
During lunches on Monday students participated in hula hooping competitions. These competitions were won by out-hooping everyone else in the round. Each winner was awarded a pair of maroon sunglasses to strut at the upcoming football game. 
Tuesday- Dress like One Hundred Bucks
Look-good, feel good. On this spirit week day students dressed their best and showed the Knights how nicely Slaters clean up. This staple spirit week theme allowed for students to dress their best while showing off their impeccable looks. With their sharp 'fits and bright smiles the Slaters were unstoppable. 
Tuesday's spirit activity was a limbo contest. In each lunch the most daring and flexible students lined up to limbo and compete for the prize of a slater cowbell. 
Wednesday- Dress like you're One Hundred
A new addition to the spirit week themes, Dress like You're One Hundred, allowed students to channel their inner senior-citizen. This seasoned theme called for borrowing some of your grandparent's most beloved clothing pieces and dressing as if you're as old as the rivalry itself. 
The task placed before students in lunches on this day was to accurately throw a mini football into a colorfully painted field goal backdrop. If the football was successfully launched through the goal posts, a maroon spirit horn was earned. 
Thursday- Dress like it's One Hundred Years in the Future
For this spirit week theme students were called to dress as if it were the year 2119. However, students decided not to engage their imaginations and instead sparked a rebellion. Rather than wearing something innovative and out of the norm, they opted to wear their jammies. By taking things into their own hands and wearing pjs students ignored this unique theme all for the sake of wearing what they had slept in the night before. 
This lunch contest consisted of students from all lunches placing a guess of how many tootsie rolls were piled into a glass jar. Whoever had the closest guess was labeled as both the winner and new owner of this tootsie filled container. 
Friday- One Hundred Shades of Maroon and White 
On the final day of spirit week, as always, students dressed in school colors. Students topped off rivalry week by dressing in maroon and white from head to toe.
A rivalry week tradition is spinning the Bangor vs. Pen Argyl football game wheel. During lunches students had the opportunity to spin this memento and accept a spirit pom if the spinner landed on a successful play for the Slaters. 
Senior Dress up Day 
One of the most highly anticipated events of senior year is senior dress up day. On this day (October 31), Halloween, the seniors dressed in creative costumes of their choosing. Their costumes ranged from TV and movie characters, celebrities, group costumes, and more. This exciting day gave the eldest in the school the perfect opportunity to flaunt their vibrant personalities.