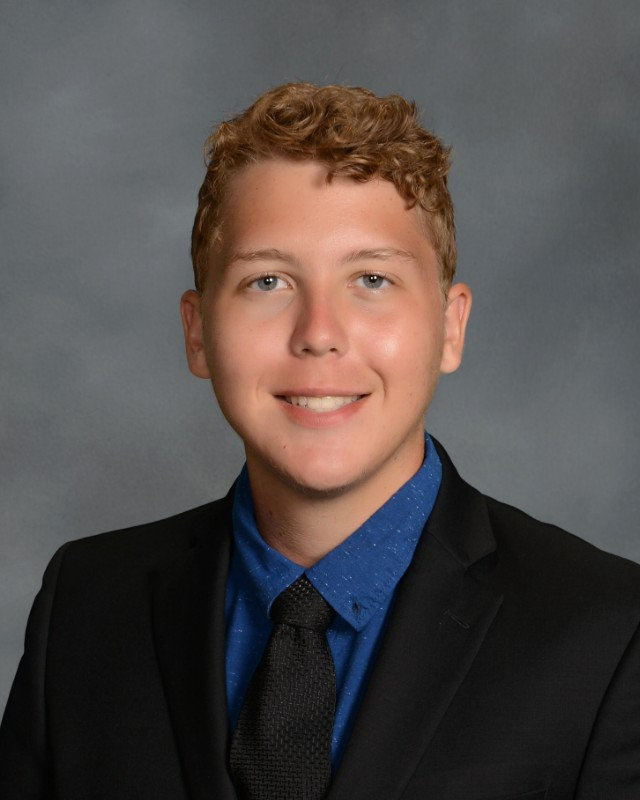 Smart, passionate senior Andrew Bunn, after completing a full career in student government, marching band (drum major), musical (pit orchestra/ stage crew), and Boy Scouts, plans to attend Embry-Riddle Aeronautical University. Bunn will pursue a degree in Aerospace Engineering.
What three adjectives would your friends use to describe you?
Smart, passionate, funny (I hope)
What sports, clubs, organizations, jobs do you have and what are your positions in each of these activities?
Throughout my time in high school, I was a member of the Student Government Association where I was called to serve as a temporary committee head, the marching band where I led the ensemble as Drum Major, musical where I was involved in both pit orchestra and stage crew, and the Boy Scouts of America where I am growing ever nearer to achieving the rank of Eagle.
What's next for you? College, Military, Workforce? Be specific
I will be attending the Embry-Riddle Aeronautical University in Daytona Beach, Florida where I will pursue a degree in Aerospace Engineering.
Which friend or friends will you miss most from Bangor and why?
Ahh this is a tough one, so I'm going to cheat a little bit and say that I am going to miss the BAHS band family. From the moment I entered high school as a freshman up through and including my senior year, they have constantly supported my ambitions and endeavors.
Which teacher influenced you most or who will you remember most from Bangor and why?
This is yet another difficult question, but if I had to select just one teacher who had a tremendous impact on me, it would have to be Mr. Hahn. Mr. Hahn was the teacher that I spent the most time around during my high school career. In addition to being my homeroom teacher, Mr. Hahn also worked with me and my peers through the bands program which I believe is one of the most influential organizations in the school. He taught me the value of hard work and, through diligent practice, showed me the importance of a lifetime of dedication.
What is your best high school memory and why?
The field trip I took last year to Washington DC is the source of many of my favorite high school memories. The things I got to see and learn as well as the friendships I made during the trip are truly priceless.
Which band could play the soundtrack to your high school career and why?
The Bangor Band, because it did.
When you arrive at school in the morning, where is the first place you want to go and why?
Homeroom, because that is where I'm supposed to go.
Where do you predict you'll end up ten years from now and why?
If all goes according to my plan, in about ten years I should be an established aerospace engineer with a focus on advanced systems of spacecraft propulsion working for an aerospace firm. I plan on going through a lot of schooling to achieve this goal and will almost certainly attend grad school for an even higher level of education.
Which event, events will you miss the most and why?
If it has not become blindingly apparent by reading my other answers, I was extensively involved in the music department during my time in high school. That being said, the events I will miss the most are the marching band competitions. Not too many people know this, but marching band is actually a competitive activity and our band travels to other schools almost every weekend during the fall athletic season to have our show judged and ranked against other bands. These events always proved to me the effectiveness of a week's worth of hard work as I got to watch our weekly score rise to reflect the effort we put forth.
What is your favorite quote to live by and why?
"There's no such thing as a failure who keeps trying." ~John Popper
This quote should speak for itself; persistence equates success.
What were some of your biggest tasks you had to do as a Drum Major?
The primary duty of a Drum Major is to conduct the band through its field show. This task was the focus of my efforts during the marching band season, and every new thing I learned about music I would try to apply to my skills as a conductor to make the show more seamless.
What is one of your most favorite memories from marching band?
During my time in the marching band, we competed twice at the Mount Olive High School band competition. The stadium and atmosphere of Mount Olive is remarkable and always leads to some of our best performances. The elation shared across the ensemble after a successful show at Mount Olive will always be one of my favorite high school memories.
When did you first become interested in aerospace engineering? And was there a specific person who motivated you to choose this path?
Even as a child, I was interested in space and knew I wanted to work in a field that channeled that interest. The summer before I started high school, my family took me on a trip to visit the Smithsonian Museums and the Goddard Space Flight Center. Looking at the different contraptions and history on display at these two places convinced me to pursue a path in aerospace engineering.
If you could go back in time and change one thing about your high school experience, what would it be and why?
I would probably go back to encourage myself to pursue awards and activities outside of what's offered by the high school. Good grades and extracurriculars are important for the college admission process, but it's the awards and other activities not directly affiliated with the school that really demonstrate one's passion. I didn't really understand this notion and came dangerously close to being rejected by every school I applied to. Fortunately, I was able to secure a place at Embry-Riddle where I will use this wisdom to the fullest.