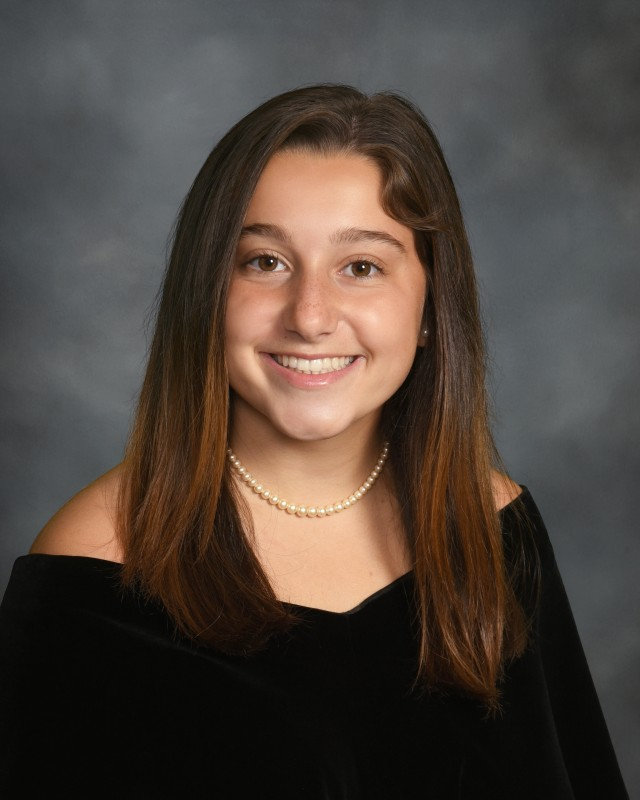 How many years have you been a Bangor Slater?
I've been a Bangor Slater for 12 long years.
Where do you plan to attend college and what will you be studying? What do you want to do as a future career?
I plan on attending college at the university of Tampa and I'm going in undecided for right now, but I would love to maybe study music and eventually become a performer in my future career.
List the sports, activities, clubs, etc. you did while you were at Bangor High School. 
The sports that I was in were freshman year JV soccer and senior year varsity tennis. I've also been in the Bangor Area High School musicals all four years.
What three positive words would your friends use to describe you?
My friends would describe me as outgoing, energetic, and kind.
Who will you remember most in Bangor and why?
I'm going to remember my choir teacher, Mr. DiMinico, and the teachers that actually cared about me and my friends the most.
What is your best high school memory and why?
The best high school memories were definitely from being on the tennis team and playing tennis with my best friends.
What is your worst high school memory and why?
My worst high school moment was finding out I didn't get into my top college.
Which band could play the soundtrack to your high school career and why?
Big Time Rush because their music just slaps.
If there were a movie or TV show made about your high school days, which actor would play your part and why?
I would probably pick Rebel Wilson because she is just as outgoing and crazy of a person who doesn't care what people, think just like me.
When you arrive at school in the morning, where is the first place you want to go and why?
I want to go to a room with all my friends because they are the people that I acutely liked in school.
Who influenced you most during high school and why?
I think I was influenced most by Mrs. Martinez because she has helped me so much this year and never gave up on me.
Where do you predict you'll end up ten years from now and why?
I predict I'll be on TV, so just watch out people, I could be your new favorite actor or singer, whichever comes first!
Which event, events will you miss the most and why?
All of the school dances because that's where I could break out all of my best dance moves!
What is your favorite quote to live by and why?
I don't really have a quote I live by but when I thought about this question, all that came to mind was "just keep swimming, just keep swimming."