SLATER CHEERLEADERS LOUD AND PROUD THIS SEASON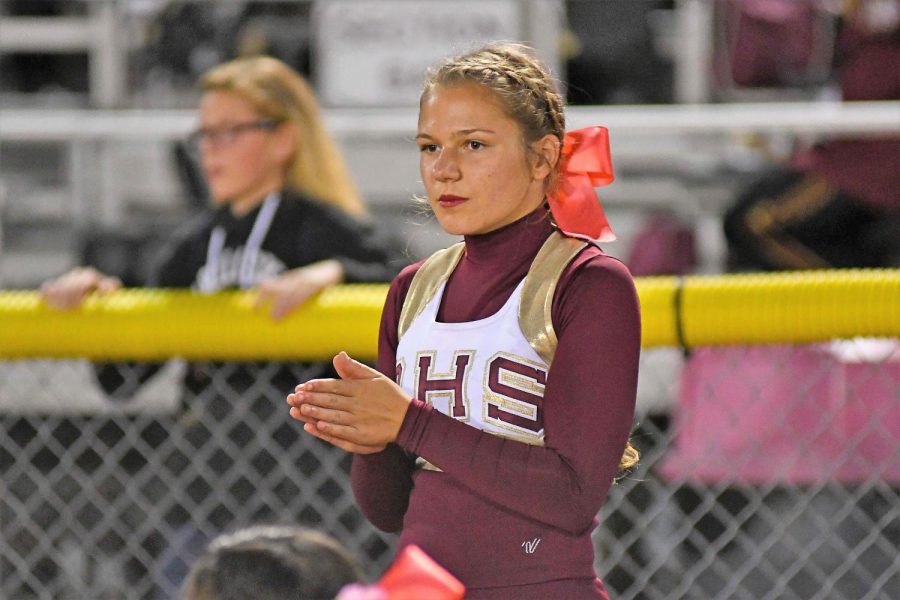 Kaley Casagrande, Reporter
October 18, 2017
The BHS Varsity cheerleaders have been impressive throughout 2017 football season due to veteran leadership, a handful of fantastic upcoming freshmen, and new head coach Lisa Keith.
Coach Keith has 16 years prior coaching experience at Wilson High School where she led teams to League, District, and Regional titles. On other occasions, her teams have placed in UCA Nationals in Disney.
This impressive background in competing will be a helpful component in the Slater's first ever competition season. Aside from the competition season, BHS Cheerleaders have been showing off some show-stopping cheers and dances on the football sidelines.
"As a captain of the football team, I know I can speak for the whole team when I say we really appreciate the support we get from the cheerleaders at our games even though we are not able to watch them perform at the time," junior Seth Diorio said.
To get the sideline ready, Slater Cheerleaders spent three hours a day, five days a week all summer preparing themselves for camp. There, they would cheer all day long and be evaluated at the end of each day.
"We had about an hour of free time before curfew every night and, Martina and I as captains and seniors, planned a lot of fun team bonding," Captain Hailey Setzer said.
As a team, Slater Cheerleaders did activities such as making t-shirts and writing gift certificates with positive things about each other to give out. At the end of each day, the captains would give out spirit sticks to who they believed did the best that day.
In addition to normal camp, Slater Cheerleaders have been given the opportunity to attend World Cup tumbling classes every Tuesday. Through these classes the squad has successfully increased their number of tumblers as everyone gained a new skill since the beginning of the year. This will help in competition.
The BHS Cheerleaders will debut their routines for the first time November 8 at the Colonial League Competition that they have worked so hard to prepare all season.
"We are not sure where our season will take us, but we've been working very hard on competition and we're excited to see it come together in a few weeks,"Captain Martina Sell said.
Before they can start their competition season, BHS Cheerleaders must first get through Bangor vs. Pen Argyl Week. Something overlooked by many as just any other week is the most hectic time of the year for these Cheerleaders.
Cheerleaders spend weeks making signs for each football player of the team in their preparedness for the day of the bonfire. That day, squad members go to each player's house and decorate them with multiple football, spirit-themed posters.
Each group gets a specific route with multiple player's houses to decorate. After they finish this task, the cheerleaders make their way back to the school where their next objective is to ready themselves for the Pep Rally.
The weeks leading up to Spirit Week is the cheerleader's busiest part of their season, but they always do a great job putting it all together.
As the football season dwindles down, the cheer squad is preparing to say goodbye to two seniors, co-captains Sell and Setzer.
"Martina is my best friend and Hailey is such a fun spirited person to be around, I will truly miss my sister bonds I have made with these girls since Blue Valley Patriots," junior Emily Labar said.
They aren't done for good, however. After football season BHS Cheerleaders will appear led by their co-captains at competitions and at the varsity basketball games.
"Hailey and I have been cheering together for so long and it's crazy to think it's been such a huge part of our lives. I am happy that I have been a part of such a fun sport where I can express myself and I know I will look back on my years of cheering and be thankful for it all," Sell said.
No matter where the future takes these seniors, it is clear that the BHS Cheerleaders have a bond like no other.