JOIN SANTA'S FLIGHT WITH THE NORAD SANTA TRACKER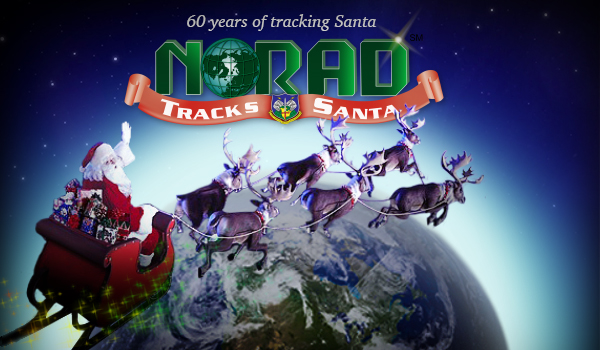 As the holiday season swings into full gear, cookies are being baked, presents are being wrapped, and all that we're waiting on is the arrival of Santa Claus. Being in the know of Santa's whereabouts has never been easier with the NORAD Santa Tracker.
Established in 1958, the North American Aerospace Defense Command (NORAD) is a United States and Canada bi-national organization in charge of aerospace and maritime warning, as well as aerospace control for North America. Members of NORAD are constantly watching the skies and waterways of the US and Canada in order to keep everyone safe.
For over 60 years, members of NORAD have had the pleasure of volunteering their time to track Santa's Christmas Eve flight.
The tradition started in 1955 after a Sear's advertisement misprinted the phone number to call Santa. Instead of reaching Santa, the number brought them to the Commander-In-Chief of NORAD, Colonel Harry Shoup. Being in the Christmas spirit, Shoup had his staff check the radar for Santa's travel from the North Pole. Any child who called the number was given an update on Santa's location, and a tradition was born. Now, children from all over the globe can call or email members from NORAD to get the most recent update on Santa's location.
Recently, tracking Santa became even easier with a new website and app for anxious users to access on any device.
On the homepage of the NORAD Santa Tracker website, the screen shows a continuous countdown 'til Santa's takeoff, as well as the current temperature at the North Pole.
As eager children from all over the world wait on the arrival of Santa, they're welcome to hop on the website or app at any time to visit Santa's Village. Here, people can listen to some of Santa's favorite songs at The Music Stage, play a new game every day at The Arcade, read about Santa in The Library, watch movies about both Santa and NORAD at The Theater, and people can even buy their own Santa and NORAD gear at The Gift Shop.
With Christmas Eve just days away, don't forget to grab a cup of hot cocoa and cozy up on your couch with your phone to track the big guy as he makes his way to the US.