CRAYOLA CELEBRATES BHS TEACHERS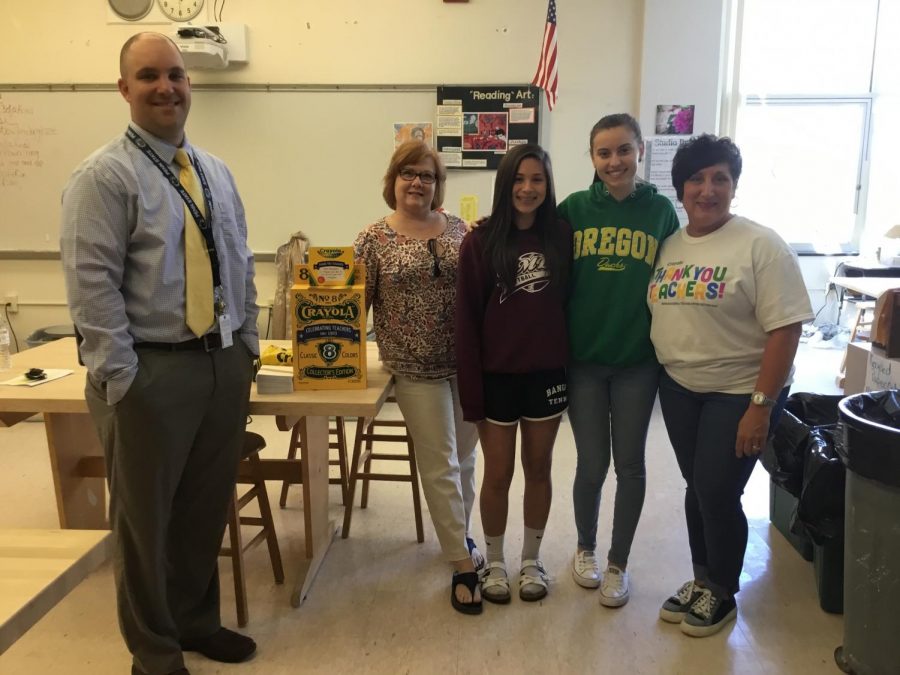 Smiles were painted on each teacher's face on May 8 when Crayola employees visited over 300 schools across the nation to thank teachers for everything they do. Bangor Area High School was fortunate enough to be one these schools and teachers were extremely grateful for the recognition.
Crayola has a strong belief that creativity helps kids become adults that can inspire the world. What better person to spark creativity than a teacher?
Ever since the first crayons were boxed in 1903, Crayola has admired teachers. The company feels that teachers spark students' imagination and inspire them to tap into their creative side. Crayola could not be more appreciative of the passion and commitment teachers display in fostering young minds.
In order to show their thankfulness, Crayola sent a member from the Research and Development Committee, Veronica Pinto, to present a donation to each school within Bangor Area School District.
Crayola's gratitude was expressed with a box of Collector's Edition crayons and a thank you card for each teacher, as well as a $500 Crayola product donation that will be shipped to the school at the end of the year.
Mrs. Reenock accepted the gift on behalf of BHS and was overjoyed upon hearing Crayola's generous donation.
"It's nice to know that local businesses are willing to reach out to local schools to help with the tightening budget that so many schools face," Mrs. Reenock said. "Crayola's donation to the school district will definitely be put to good use and I think that a lot of the elementary kids will really enjoy all of the products."
Mrs. Reenock and BHS art students are excited to have the opportunity to use a multitude of Crayola products like Model Magic, oil pastels, colored pencils, paint, and more for the upcoming school year and they can't thank Crayola enough for their unselfish donation.