JUNE MOVIE PREVIEWS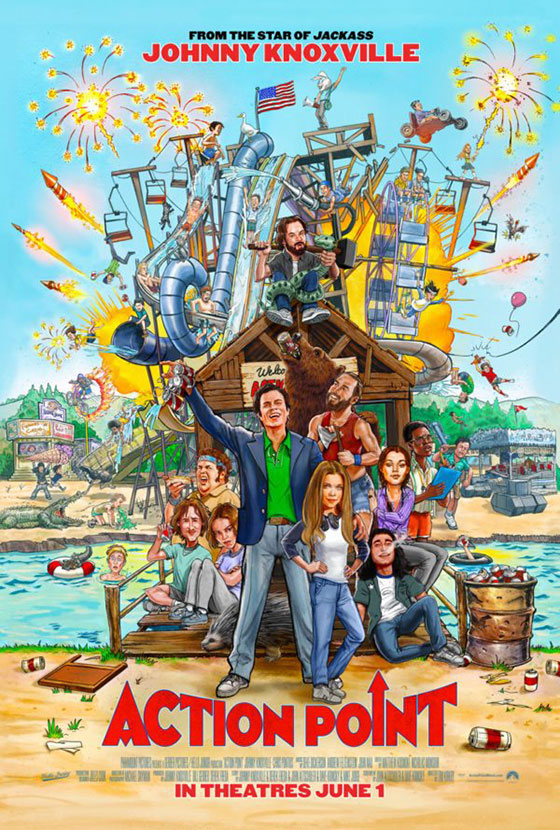 ACTION POINT (June 1, 2018, R)
By: Gabby Zeeman
Boogie (Eleanor Worthington Cox) has been estranged from her father D.C. (Johnny Knoxville) and has come to visit with high hopes to become closer with him. Luckily, her eccentric father is the owner of Action Point – a low grade, rebellious amusement park with multiple rides and games, but with one catch – minimum safety, maximum fun. Unfortunately, a brand new mega park opens nearby that may jeopardize his business. To save his family bond and beloved park, D.C. and his helping hands must risk everything to save the day.
Directed by Tim Kirkby of Calcium, Action Point presents the eventful story with Worthington Cox (Maleficent) and Knoxville (Teenage Mutant Ninja Turtles) as they try and recreate their family bond. The comedic and adventurous film will include Knoxville's insane – and somewhat dangerous – stunt-filled scenes that will leave audiences wanting more.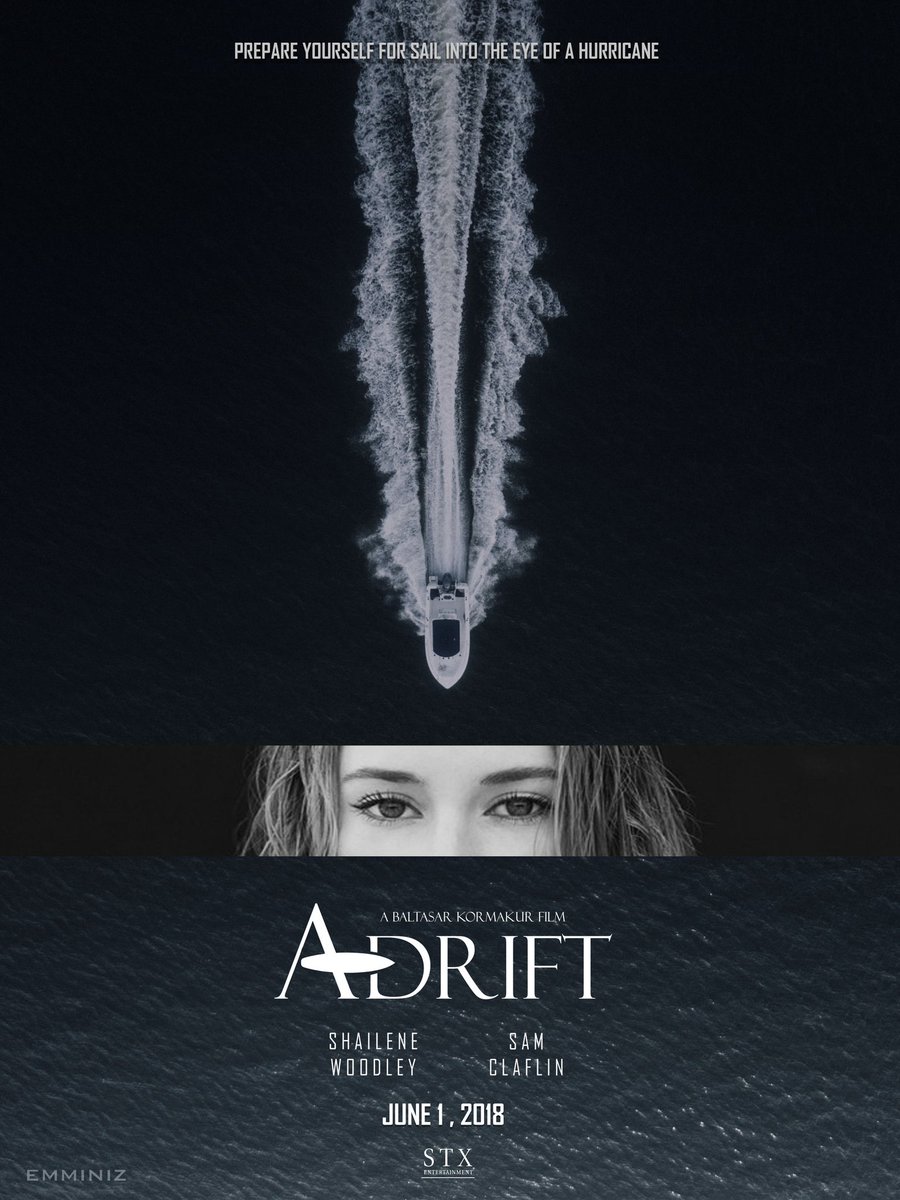 Adrift (June 1, 2018, PG-13)
By: Autumn Bird
In 1983, Tami Oldham (Shailene Woodley) and Richard Sharp (Sam Clafin) set off on a trip across the Atlantic Ocean to deliver a yacht that was intended to take them from Tahiti to San Diego. When leaving on their journey, they run into one of the deadliest surprises in hurricane history – Hurricane Raymond.
Directed by Baltasar Kormátur of Everest and Contraband, Adrift dives into the catastrophic thrill within the deep sea that is the survival of love – a topic both Clafin (Me Before You) and Woodley (The fault in our Stars) have shown talent at embracing.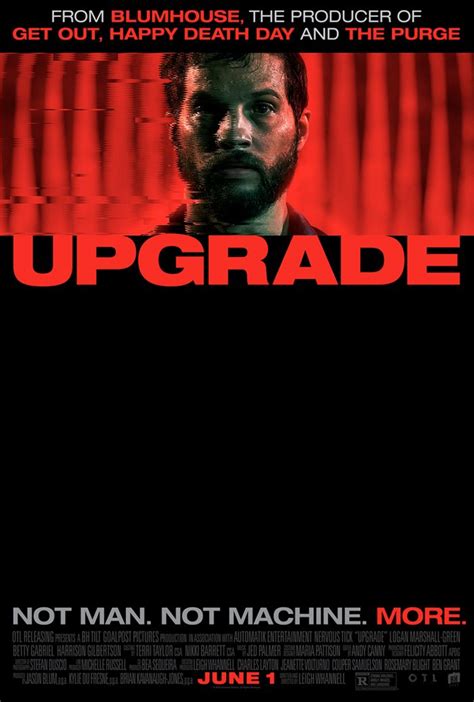 UPGRADE (June 1, 2018, R)
By: Gabby Zeeman
After being mugged from the unknown, Grey Trace (Logan Marshall-Green) wakes up in a hospital bed, paralyzed as he finds out his loving wife, Asha (Melanie Vallejo) has passed. Luckily, a multi-millionaire invents a cure for Trace that will help him turn his life back around. This cure – known as STEM – will help strengthen and rebuild his body. Now he can walk with superhuman like abilities and use them to his advantage as he plots revenge, surprises, and terminates the criminals who ruined his life.
Director Leigh Whannell of The Insidious Trilogy, adds his flair for extreme, dramatic, and sometimes gory effects to Upgrade as he puts Marshall-Green (Spider-Man Homecoming) through intense situations. This absurd, action-packed thriller will include scenes that will make you hope you don't blink.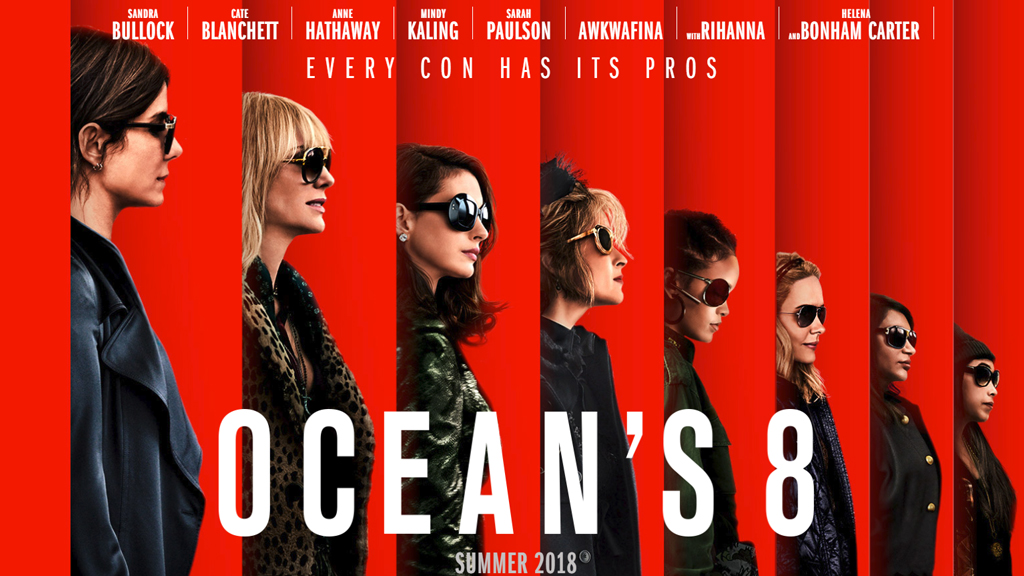 OCEAN'S EIGHT (June 8, 2018, R)
By: Amelia O'Brien
The infamous Danny Ocean's sister, Debbie Ocean (Sandra Bullock), plans to pull off the heist of the century, but first she has to assemble the greatest team known to mankind, or more specifically womankind. Facing the daunting security of the legendary Met Gala, Ocean and her team: Lou (Kate Blanchett), Rose (Helena Bonham Carter), Daphne Kluger (Anne Hathaway), Nine Ball (Rihanna), Tammy (Sarah Paulson), Amita (Mindy Khaling), and Constance (Awkwafina), only this team of highly skilled women could pull off this heist.
Directed by the talented Gary Ross, who's already shown his skill behind the camera in Hunger Games, this action comedy spinoff of the original Ocean's trilogy, this latest installment sets itself apart with a primarily female cast. With eight well-acclaimed actresses on screen, including Golden Globe Best Actress recipient Sandra Bullock (of Miss Congeniality and Blind Side fame), at the helm, this edge-of-your-seat thriller will be a solid way to kick off a summer full of exciting movies.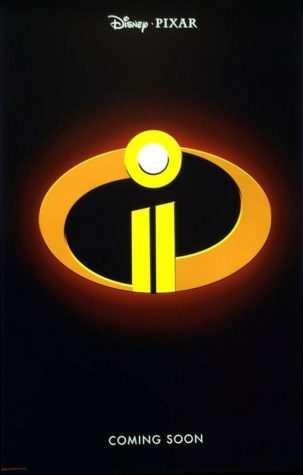 THE INCREDIBLES 2 (June 15, 2018, PG)
By: Allyson Heard
After defeating the mediocre Syndrome in the first Incredibles movie, Mr. Incredible (Craig T. Nelson) is left to care for Jack-Jack while Elastigirl (Holly Hunter) continues to fight crime and save the world from evil. The seemingly easy task of caring for the toddler takes a humorous turn as Mr. Incredible realizes dealing with a moody teenager, trouble-making pre-teen, and a super-toddler is much harder than taking down a villain.
Directed by Brad Bird (The Incredibles, Ratatouille, and Tomorrowland) The Incredibles 2 balances comedy and everyday family struggles while continuing the legacy of the Parr family. After a nearly 14-year wait, this highly anticipated sequel to The Incredibles will surely pack theaters nationwide with Disney and Pixar fans of all ages.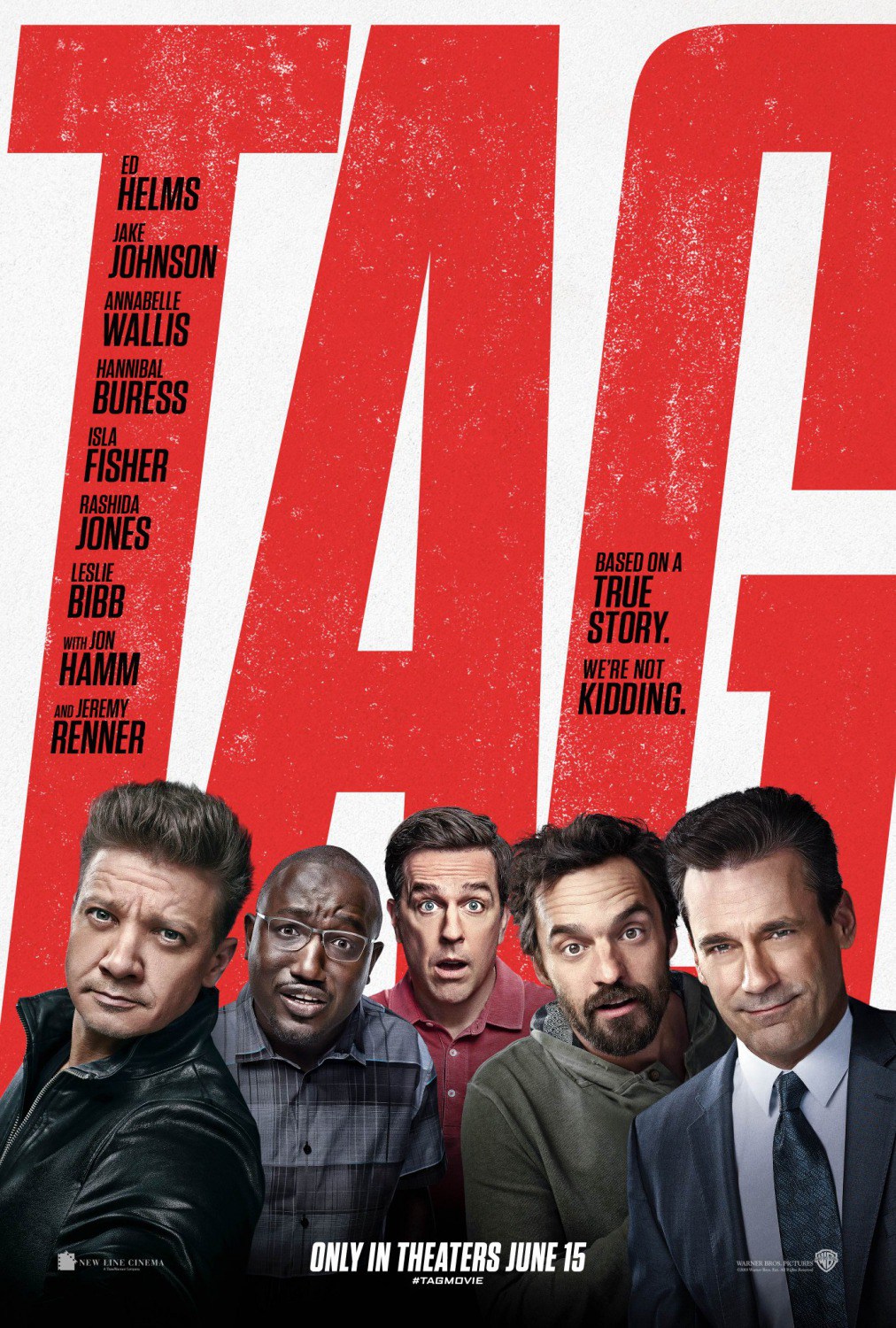 Tag (June 15, 2018, R)
By :Devin Dancho
Each May for the past 29 years a group of intense friends, Jerry (Jeremy Renner), Callahan (Jon Hamm), Randy (Jake Johnson), Sable (Hannibal Buress), and Hoagie (Ed Helms) play a cross country game of tag. By their standards, all is fair, and they must be on the look out 24/7. Yes, that means they must be fully aware of their surroundings at all times; even during special moments such as wedding ceremonies, funerals, and during the birth of a child.
Director Jeff Tomsic (Abbey is Silly) indulges the audience in an all-around comic delight. Focusing on the idea that everyone is still a child at heart, this heart warming comedy is enough to make you want to get up out of your seat and yell "you're it!"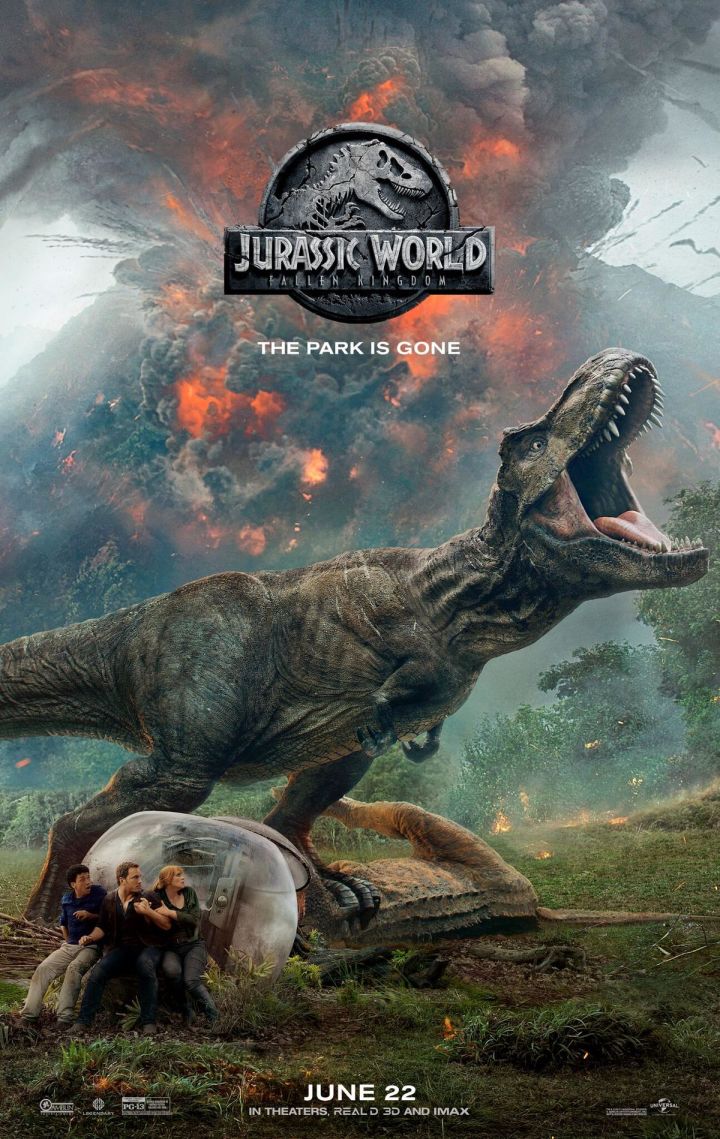 JURASSIC WORLD: FALLEN KINGDOM
By Tori Tarallo
After the destruction of the Jurassic World Theme Park, Owen Grady (Chris Pratt) and Claire Dearing (Bryce Dallas Howard) return three years later to Isla Nublar to rescue the remaining dinosaurs from a volcano that is soon to erupt. To their surprise when they arrive at the island, they encounter many new breeds of gigantic dangerous dinosaurs and uncover a plot that could put the world at risk.
Directed by J. A. Bayona, Jurassic World: Fallen Kingdom is the new thrilling sequel to Jurassic World. The science fiction adventure launches into the thrilling ride the movies present. With returning stars Chris Pratt (Zero Dark Thirty) and Bryce Dallas Howard (Spider-Man 3) the duo will add their own touches to the film making it worth the watch.