HOMECOMING: BEHIND THE SCENES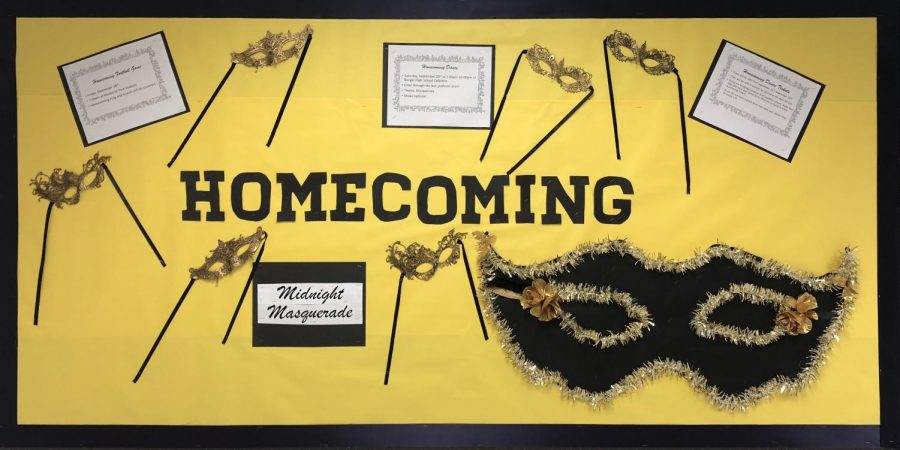 Devin Dancho, Reporter
September 25, 2018
Imagine this- It's homecoming. It's a crisp autumn night, and the sun has almost set. The sky is a dark shade of blue as you work your way into the cafeteria doors at the high school. As you come closer to the door, you become more aware of your surroundings; loud music overtakes the hush of small talk lingering outside of the building, flashing lights pierce through the air, and you see a group of friends waiting for you just beyond the entrance. It is the beginning of the perfect night. A masquerade ball.
Homecoming is certainly fun and games, but the creation of this awesome evening is complex. Student Government does excellent work in orchestrating this fabulous event.
"A lot more goes into homecoming than you'd expect. The cafeteria must be cleaned and decorated, designs need to be sketched up and followed through, tickets need to be printed and handed out, plus much much more," Student Government Vice President Akash Sareen said.
Clean up isn't something that only takes place after the dance, it also must happen before as the cafeteria is transformed from a boring school lunch room to a magical masquerade ball.
Dozens of hours of preparation are required to help the transformation. Most years, preparing for homecoming can take, at minimum, 30 hours. This time estimate doesn't include the time that it actually takes to decorate.
"Many hours are spent worrying about which panel of paper goes on which wall, which table has which table cloth, and which strand of lights goes across which ceiling tile. However, the feeling of pride I have in the end makes it all worth it," Sareen said.
SGA pays attention to all of the details, including those center pieces displayed on the tables. Almost all of the decorations used during homecoming are hand made, the photo booth included.
"Making the photo booth is an extremely difficult task. It's hard to create something from nothing. We start off with a blank board. We also have to take into consideration what everybody is going to think of it. It needs to be something that everyone will want to use and pose with." Havyn Steele, head of the photo booth committee, said.
Yes, preparing for homecoming can be extremely stressful and time consuming. The members of student government do an amazing job with the entire production, so make sure to take a minute to admire all of the time and effort put into creating the perfect night.
Tickets for this glorious dance will be for sale in lunches the week of Homecoming (September 24 – 28) for $8, or at the door the night of (September 29) for $10.