GET READY FOR SPIRIT WEEK 2018
Hang on for a minute...we're trying to find some more stories you might like.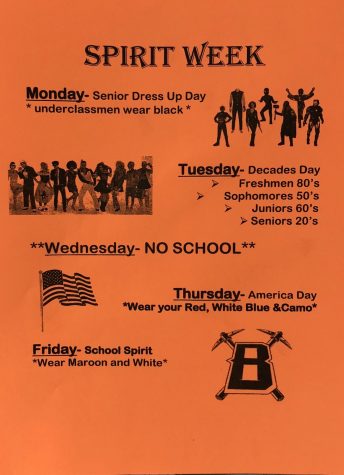 Calling all Slaters! The celebrated Bangor vs. Pen Argyl football game is right around the corner, which means the tradition of spirit week is back (October 22-26). Here's how to take down the Knights.
Monday- Senior Dress Up Day/Black Out the Knights
A favorite tradition, senior dress up day allows the eldest students in the school to show off their creative abilities. Copying looks from celebrities, TV and movie characters, dynamic duos, along with a multitude of others, the senior class never disappoints with crafty costumes.
To ensure that the senior costumes stand out in the crowd, the underclassmen will dress in all black from head to toe. "Blacking out the Knights" is a guaranteed win for the Slaters against Pen Argyl that Saturday.
Tuesday- Decades Day
The newest addition to the spirit week themes, Decades Day, allows each class to show off an era of fashion. 
Seniors will dress themselves in roaring twenties clothing, such as flapper dresses and pinstripe suits.
Juniors will go groovy and dress in tie dye for the swinging sixties. Girls can wear shift dresses and plaid pencil skirts in pastel colors, while guys can rock bell bottom jeans and loose shirts. 
Sophomores are throwing it back to the fifties where full skirt bottoms and capped sleeves will be making a comeback. The lads can also dress it up in a three piece suit to top it all off. 
Finally, the freshman will make it pop with loud and crazy eighties fashion, where more colors and clashing patterns, the better. 
Wednesday- No School
Thursday- America Day
Let red, white, and blue fly as all students should show off their immense sense of patriotism on America Day. From socks to headbands to makeup, red, white, and blue should be seen everywhere. If you're looking to spice up your American look, throw in some stars and stripes to really make it sing from sea to shining sea.
Friday- School Spirit
An all time favorite, School Spirit day allows all Slaters to show off maroon and white. Come dressed in school colors to show off Bangor pride.