SLATER FIELD HOCKEY MAKES HISTORIC RUN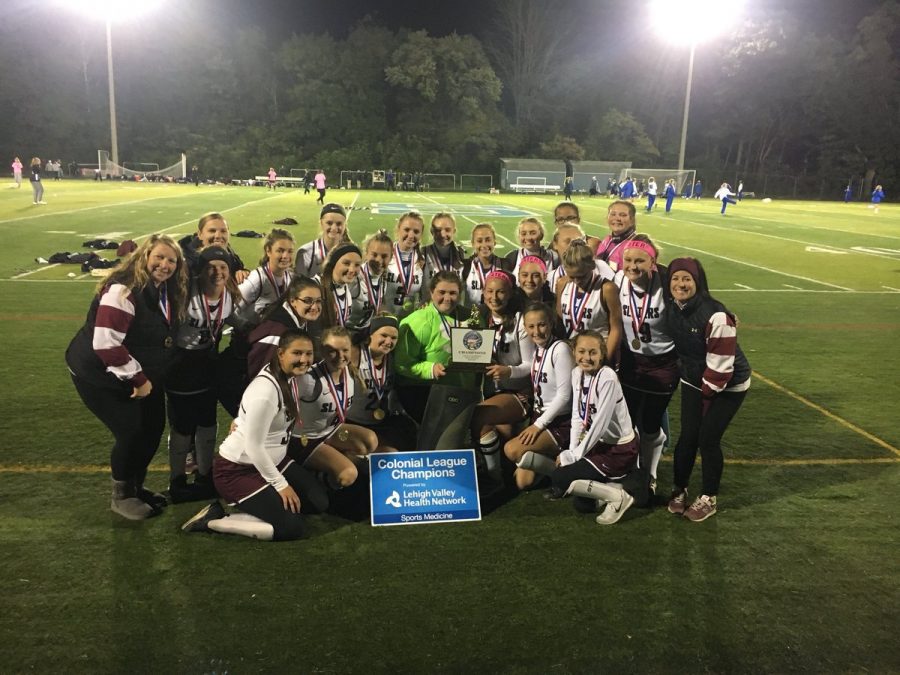 Colonial League Champs. District XI Champs. PIAA 2A First Round winners. The dynamic Slater Field Hockey team (21-1-1) just keeps winning. 
Their historic season began  October 18 when the team won the Colonial League Championship against Southern Lehigh in a penalty shootout. 
Both Southern Lehigh and Bangor earned shutouts in their semifinal games earlier that week, and their grit showed as they went scoreless through regulation and overtime. 
Senior Montana Ott struck first in the shootout, but Southern Lehigh was quick to respond with a goal to tie it up at 1-1. Although both teams were held scoreless in their second attempts, junior Dani Frinzi brought the Slaters to a 2-1 lead. 
Senior Morgan Pysher remained laser-focused, rejecting Southern Lehigh's next two shots. Putting the game away, junior Charlsie Paynter added one more goal to ensure the Slaters' 3-1 win over the Spartans. 
As Pysher booted Southern Lehigh's final attempt, the entire Slater Field Hockey team erupted in celebration. Tears of joy were shed, celebratory hugs were given, and the championship trophy was held high. 
A wave of emotions flooded over the hardworking team as they were finally given the Colonial League title they have been fighting for since their last championship win back in 2010. 
Hungry for more, the team continued its unforgettable run at districts. 
In recent years, the Slaters made many district final appearances, but always fell shy of the title. This year, the long-lasting struggle was finally put to an end. 
On October 31, the Slaters and Spartans went head to head once again in the District 11 Class 2A championship game.  
Just like in the previous championship game, both teams showed phenomenal defense and went scoreless as they made their way to halftime. It wasn't until Ott's second penalty stroke 2:10 into the second half that the 0-0 tie was broken. 
Captains Ott and Pysher were very notable players in this game. Ott had the single, decisive goal to win the game for the Slaters, while Pysher was able to produce yet another shutout with a total of nine saves. 
Indeed, this game was one for the history books. Not only was it Bangor's first district championship title in program history, this game also advanced the team record to 20-1-1, setting the program for most wins in a year. 
With gold medals around their neck, the team was welcomed back to the Slate Belt with booming fire truck sirens and proud, boisterous fans. 
On a winning high, the Slaters stayed focus as they prepared for the first round of state playoffs on November 6. Even though this was Bangor's first PIAA 2A appearance, they played the game like true champs against District 3's fourth-place team, Manheim Central. 
The Slaters came out strong right from the start, with an early goal made by junior Hailey Hotchkin. 
After the Barons scored late in the first half, the teams went into halftime with a 1-1 tie. It remained an even score well into the second half until junior Carly Amerman scored with a few minutes left in regulation, clinching the Slaters' 2-1 victory.  
Freshman Kaylee Holland had both assists for the team and has been a crucial player all season long. 
With one state playoff win underneath its belt, the field hockey team hopes to keep its winning streak alive in the second round. The Slaters will face Wyoming Valley West 2:00 p.m. this Saturday at Central Columbia High School, so make sure to come out and support the girls to witness some history in the making.