THE LION KING JR. A ROARING SUCCESS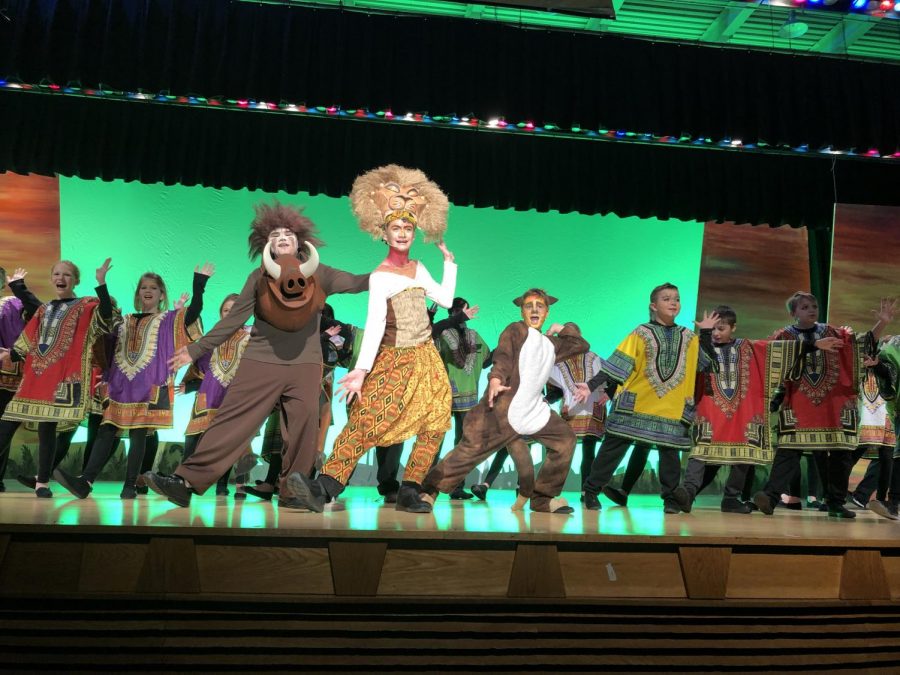 Under the direction of Mr. Butch DiMinico, Mrs. Rebecca Kranich, and student directors Jessie Barker and Gianna Graziano, Bangor Area Middle School's sold out performance of The Lion King Jr. was a smash hit.
After the red velvet curtains opened, 'animals' of all shapes and sizes took stage. The colorful and impressive life-like animal costumes were crafted of paper machete. Costumes included a fifteen foot tall giraffe and a jaw-dropping gray elephant nearly six feet wide. 
Each lion and lioness sported its own crafted headpiece and beautifully patterned cloak, which added elegance of the African desert setting. The ensemble performers also wore intricately designed shawls covered in a multitude of colors with flat caps to match on top. 
Students in exquisitely crafted paper machete animals strategically pulled off impressive choreography during their first number. Each performer absolutely stunned the audience with vocal skills and admirable ability to nail notes in classic 'Lion King' songs. This scene also introduced the audience to the main characters, including Simba, the lion cub that would one day take over his father's land.
Low humming added to the dramatic build of each scene and rhythmic beating on the drums jolted the audience during exciting scenes. The music throughout the entire show was catchy and audience pleasing.
Some fan favorite songs included "Be Prepared" which consisted of the hyenas and Scar, jealous uncle of Simba, plotting to overthrow the lion government. The deep, thrilling song brought viewers to the edge of their seats awaiting the next mysterious movement from Scar.
Among the standout performers, soloist Elizabeth Rutt enthralled the audience with her remarkable portrayal of Rafiki, a wise monkey who helps Simba on his long journey. Singing "He Lives in You," Rutt took full advantage of her opportunity to impress the audience. Between the long vocal strides and filling the stage with her dancing, Rutt surely stood out. 
Another casting success included the transformation of Simba from a young cub to a grown lion. Andrew Spagnola, who portrays young Simba, is energetic and cheerful throughout his performance. Jace Paynter, with a deeper voice and taller stature, brings a more serious tone to the stage as adult Simba.
Mr. DiMinico and Mrs. Kranich have outdone themselves yet again with a stunning performance with over 100 participants. Congratulations to the directors, performers, stage crew, and parents for producing an amazing show!