NICOLA KAYE: MOST LIKELY TO PREVENT THE NEXT OUTBREAK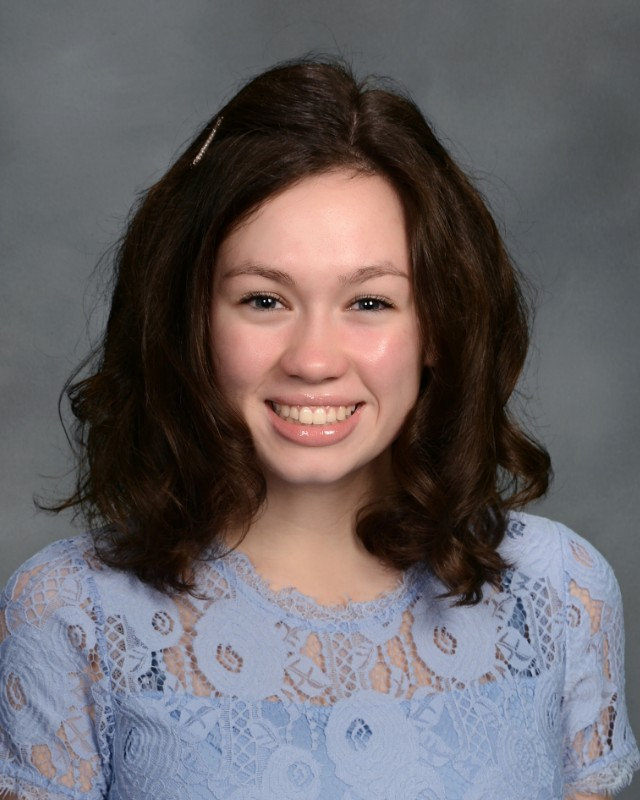 Astute senior Nicola Kaye will pursue her interest in engineering at Villanova University, where she will major in biochemical engineering. With this degree, Kaye plans to enter the field of research medicine. Throughout high school career, Kaye made an impressive name for herself as President of Spanish Honor Society, Treasurer of National Honor Society, stage manager for the musical, and a member of Student Government. 
What do you hope people will remember about you after high school is over?
That I was a nice friend.
Who will you remember most in Bangor and why?
Star—the woman who drove the painted van around downtown Bangor. There was no negative stigma with her, it was just like spotting an eagle or something rare and exciting while you were driving around. Also, it was cool to see show she repainted her truck every month or so.
What is your best high school memory and why?
This year, painting the signs in the theatre lobby for the bonfire, laughing with friends, and dancing to Kanye West. It was just a genuinely happy moment and I was so thankful for my friends.
What is your worst high school memory and why?
Freshman year I wore heels to school for the first time and I WIPED OUT in the hallway in front of a bunch of seniors and Mr. Schwartz. I was so embarrassed. 
Which band could play the soundtrack to your high school career and why?
Anything from Sia because she seems like a really tough and independent chick. Her music is amazing and I love to listen to her in the car.
If there were a movie made about your high school days, which actor would play your part and why?
I think Millie Bobby Brown because she's cute and quiet and could portray anyone. She could be a cute geeky science girl.
When you arrive at school in the morning, where is the first place you want to go and why?
Usually Mr. Hachtman's room because we have tea to spill or a joke to tell. I also love to go see Mrs. Diorio because she's always so positive and we once danced to Mamma Mia! together.
Who influenced you most during high school? Why and how? Give them a shoutout!
It's a hard choice, I feel like I'm picking favorites. I suppose Mr. Hobbs because his class really makes you invested in the field of science. He also embodies a happy soul—he is so intelligent and talented but he doesn't feel the need to show it off, he'd love to just screw around with Hachtman all day. I think it's an admirable quality to forget about how much you know and just have a good time.
Where do you hope to end up 10 years from now and why?
In 10 years I'd love to have a cute apartment with a trendy, modern kitchen. A little golden retriever puppy, a little vacation here and there, and a steady job sounds like the dream.
Which event/events will you miss the most and why?
I honestly will just miss going out to breakfast with friends on a two-hour delay—I actually went this morning and it's probably the last time I'll get to do that.
What is your favorite quote to live by and why is it important to you?
"It is what it is." People either love or hate this quote, but I think it encourages happiness—It might be a sucky situation but if we can't fix the problem let's just move on and try to get back to being happy. Don't dwell on the sad things.
What disease would you want to find a cure for? Why?
This is really what my career will compose of, so it's a good question, except that I don't have a good answer. My dad suffers from two forms of cancer and I have friends with MS, so I'd love to help them, but I feel like I'm choosing who lives and who dies. Whatever I can find the solution to the quickest, that's what I'll do. I think it selfish to just try and fix my problems, so I'm willing to help anybody.
What would your first step to eradicating all diseases be?
I think the most important part is to begin with educating everyone. With all the false rumors around vaccines and other medicines, there's no way you could get everyone on board to eliminate a disease. If we do the research and prove to people that there is a safe alternative, everything else can go smoothly. 
If you could ask any famous scientist for advice, who would it be?
I know he's not famous but I'll definitely ask my dad for help when I'm working at a research lab. We just have an understanding for each other and he's great to bounce ideas off of because he loves what I'm pursuing and has lots of science-y knowledge from his college education.
Who is your biggest inspiration? Why?
Another unlikely answer—Gianna Graziano is the sweetest person I know. I literally cannot think of one time since we were 4 that she's been slightly nasty to anyone. Joy and creativity just sparks off of her and she lights up any room—trips to the mall are the best with her. If I could have her kindness, positivity, and bubbly energy, I'd be set for life. 
How would you keep calm during an outbreak?
Lists are actually my biggest coping mechanism (other than shopping) for any type of stress. I guess I would make a list on how to fix the problem and then start dividing and completing the tasks. Maybe I'd need a shopping spree in there too 😂.