2018-2019–OLIVIA O'SHAUGHNESSY: MOST LIKELY TO GRACE THE COVER OF VOGUE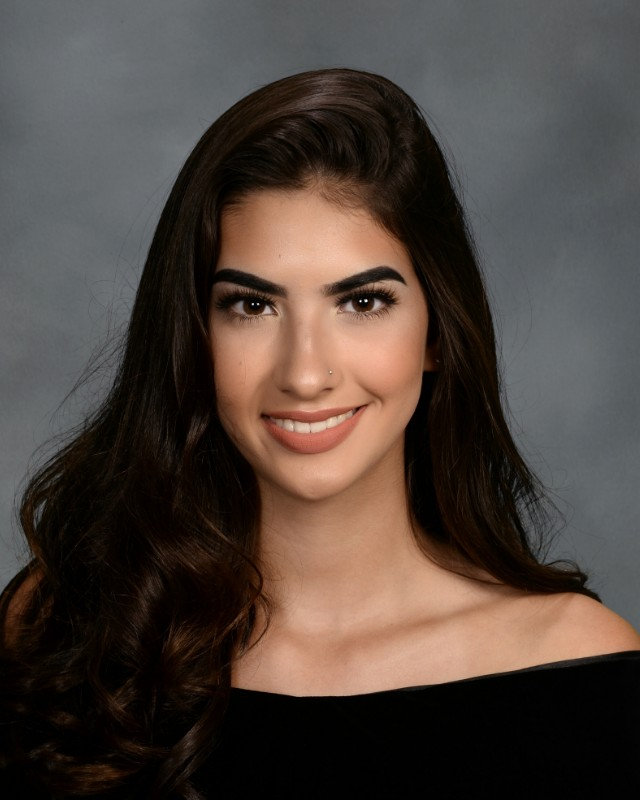 Beauty guru Olivia O'Shaughnessy will further her talents in the fall as she attends beauty school to become an esthetician. She plans to be a licensed esthetician working in a spa one day. Over her four years at Bangor High, O'Shaughnessy has been a member of the Chamber Choir, Concert Choir, Senior Class Cabinet, and a Slater varsity cheerleader.
What do you hope people will remember about you after high school is over?
My outfits. 
Who will you remember most in Bangor and why?
Mr. Di Minico because he really impacted my performing interests. 
What is your best high school memory and why?
My best high school memory is reconnecting with my best friends Jacqueline Greene and Sara Phillips. 
What is your worst high school memory and why?
My worst memory was waking up at 6 am for three years of high school. 
Which band could play the soundtrack to your high school career and why?
One Direction, no reason really, they just remind me of good times. 
If there were a movie made about your high school days, which actor would play your part and why?
Anne Hathaway, I've been told I look like her. 
When you arrive at school in the morning, where is the first place you want to go and why?
Right back to my car. 
Who influenced you most during high school? Why and how? Give them a shoutout!
My mom because she made me the person I am today. 
Where do you hope to end up 10 years from now and why?
Hopefully far from here, starting a family. 
Which event, events will you miss the most and why?
Musical because it's a once in a lifetime experience for me. 
What is your favorite quote to live by and why is it important to you?
YOLO.
Who is your biggest makeup inspiration? Why?
My cousin who is a professional makeup artist and any talented beauty influencers. 
What is your go-to everyday makeup look?
More simple and natural for school and full glam on the weekends and for performing and modeling. 
What is your favorite clothing store to pick up the latest trends?
Forever 21 and H&M.
Do you believe that shoes complete the outfit, or are they just an accessory?
I think shoes can make an outfit stand out and change a casual look to dressy in a second. 
If you could have dinner with any celebrity, who would it be and why?
Donald Trump. Love that man.