2018-2019–SCIPIO SPRINTS ACROSS FINISH LINE BREAKING RECORDS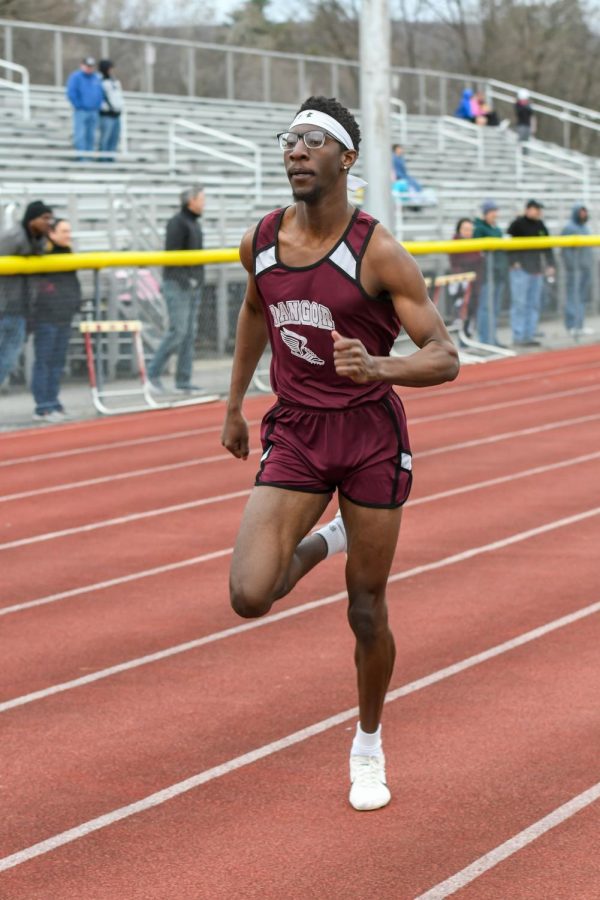 Senior track star Tyrek Scipio recently broke two of Bangor High School's track and field records in the 100 meter and 200 meter dash. 
The previous record for the 100 meter dash (10.6 seconds) was held by Steve Lapekas since 1986, which Scipio broke with 10.3 seconds. Scipio also broke Michael Ferreira's 20-year long school record (22.3 seconds) for the 200 meter dash with his own personal record of 21.2 seconds.
"I was shocked when I crossed the finish line and realized that I had broken a record, both times. I didn't feel that I did it, but those were the fastest races I've ran all year," Scipio said. "It was a great experience actually talking to Michael Ferreira on the phone after I broke the record. He congratulated me and wished me the best for the rest of the season."
Leading up to this monumental moment in Scipio's career, he put in countless hours working with coaches and teammates to get his speed and stamina up.
"As a sprinter, some days are more focused on my technique, which is block work and form, while other days are focused on speed and conditioning," Scipio said. "The exercises consist of  A and B skips, fast leg right and left, falls, build ups, and 30 burst sprints."
Before each meet, Scipio has his own routine perfected to ensure he shines while crossing the finish line.
"I always listen to music, make sure I'm hydrated, I clear my mind to focus on only what's in front of me, I take some deep breaths, and really zone in on sprinting towards that finish line," Scipio said.
This routine has had incredible results. On May 8, Scipio competed in Leagues and won gold in the 200 meter dash.
"Winning gold in Leagues was a great feeling. I didn't warm up as much as I would've liked to, but I knew I had to come out strong and finish with gold," Scipio said. "I kept telling myself during the race to just keep my head clear, zone out everything, and stay focused on the goal in front of me."
Relying on his perfected routine, Scipio once again broke the school record for the 4×4, along with his teammates junior Nate Owens, Marino Bubba, and sophomore Gabriel Lawler. Superstar Scipio also broke the 400 meter record with a 50.3 second split.
Scipio also draws motivation to improve from watching his own inspirations, such as Usain Bolt.
"Watching Usain Bolt helped me a lot. Learning about how he came from Jamaica and I came from Trinidad, so I knew we had similar backgrounds. I knew I wanted to be like him, and I still have more work to do. I'm proving my worth though, even though I feel like I have a chip on my shoulder," Scipio said.
Scipio plans to continue his successful track and field career at the collegiate level, although he is unsure of where he will attend. He also plans to major in business and minor in photography.
"I became interested in business because I realize that all my life, computers weren't my thing, but I knew that business could take me further," Scipio said. "With photography, I really like taking pictures and I really want to be a top photographer once I get the right tools and gears for it."
Scipio will always cherish his time as a Slater and hopes to share his advice with future athletes.
"For future athletes and sprinters, run, jump, and throw in your own event. What I mean by that is run your own race, jump to the farthest point you can jump to, and throw the farthest you can. Just keep on working hard," Scipio said.