MORGAN O'BRIEN: MOST LIKELY TO SAVE THE WORLD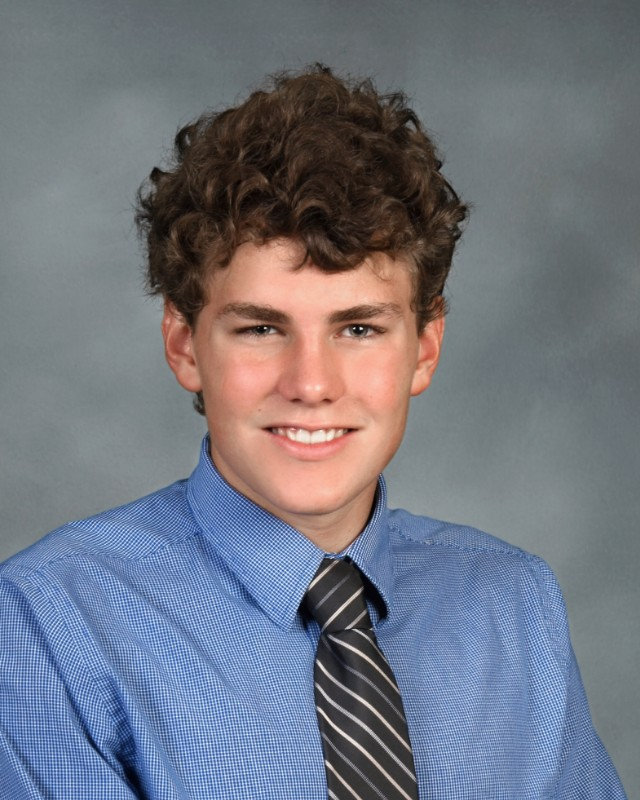 Austin Medina, Reporter
May 29, 2019
Slater record breaker and varsity Captain Morgan O'Brien has high hopes for the future. He'll attend the Air Force Academy and study biology, following a path of flying planes and doing lab experiments.
What are your school activities and positions in those activities?
Spanish Honor Society Treasurer, XC Varsity Captain, Varsity Swimming, Track and Field Varsity Captain, and Envirothon member.
What career do you hope to attain?
Work as a pilot or biologist.
What do you hope people will remember about you after high school?
I hope to be remembered as someone who had a positive impact on my classmates, teammates, and friends.
Who will you remember most from high school?
I think I'll remember the teachers and their unique personalities the most. Getting to know them and their crazy life stories (Mr. Hartman and his Russian teacher, Mr. Hobbs and his fencing adventures in college, Mr. Vidumsky and running with Olympians, Mr. Perelli and LARPing, and many more) brightened my years at Bangor and made the learning process fun. Students graduate as the years pass, but the teachers largely remain the same. They provide the foundation for the school culture we know and love. I am so grateful for each of them and the differences they made in my life.
What is your best high school memory?
My best high school memory was going to Cross Country States my senior year. It was culmination of all 4 years of hard work. The entire 3 days was unforgettable. From the van ride out the first day, to playing hide and seek in Cabella's, to staying at the hotel and playing in the pool, to exploring the course before the race and visiting Hershey's Chocolate World, to the great pasta we had the night before the race, to the excitement before and during the race, and to the satisfaction of completing it, everything was perfect. I was not worried like my previous States races; I had the time of my life.
What was your worst highs school memory?
My worst high school memory was standing awkwardly in the front of the lunch room, not knowing where to sit, the first day of freshman year. I did not know anyone in that lunch. Thankfully, it was a blessing in disguise, as I ended up making new friends, but, man, the awkwardness of the whole experience still stings.
Which band could play the soundtrack to your high school career and why?
The Zac Brown Band. They're a country band, which covers a lot of my interests, from fishing to chicken fried, and their down-to-Earth, fun loving, island-infused sound represents the kind of person I am.
If there were a movie made about your high school days, which actor would play your part and why?
I hardly know any actors, so I would say a young Paul Walker (RIP) just because people sometimes say I look like him.
When you arrive at school in the morning, where is the first place you go and why?
I go to home room so I don't get marked late.
Who influenced you the most during high school? Why and how?
Jeffrey Steinert. He influenced me in many ways, but most importantly he helped me open up to making new friends and boosts my confidence everyday by believing in me, even when I didn't believe in me.
Where do you hope to end up in 10 years?
In 10 years, I hope to be flying airplanes in the US Air Force, as an officer, and with a degree in biology.
Which event(s) will you miss the most and why?
I will miss gym classes the most. I loved competing with my classmates and meeting upperclassmen and underclassmen through my 4 years. Some of the funniest, stupidest, and most hyped moments of my high school experience occurred during gym class.
What is your favorite quote to live by and why is it important to you?
"The words that follow 'I am' follow you." -Rock Thomas.
This quote is all about self belief, and how if you believe in yourself and say to yourself, 'I am a champion/I am a fast runner/I am smart', your mind will remove the barriers that prevent you from succeeding. Unfortunately, it also works in reverse. If you put yourself down and lack self-belief and self-worth, you will create mental barriers that prevent you from being your best self.
During your athletic career, have you broken any school records?
I was the first freshman in Bangor history to qualify for States in Cross Country. Additionally, I set a course record on the Wilson XC course my junior year.
What were your own personal records for sports?
XC- 5k- 16:52
Track and Field- 400m- 54.54, 800m- 2:02, Mile (1600m)- 4:29, 3200m- 9:45
Swimming- 100yd Butterfly- 52.54; 100yd Breaststroke- 1:01.22; 200yd Freestyle- 1:49.29; 200yd Individual Medley- 1:58.53; 1650yd Freestyle (The Swimming Mile)- 18:10.86
Will you do sports after high school?
Yes, I will most likely do Track and Field and Cross Country in college, possibly swimming.
Were you a gym class hero? Or did you never really try?
I was a gym class hero. I was not a stereotypical trash-talking, in-your-face try hard, but I always gave 100% because I hate losing.
What is your favorite food to eat before a competition?
I always eat apples and oranges before racing because it feels like their energy goes directly to my muscles, while not weighing me down like a big meal does.