2018-2019–REED READY TO SOAR AT EASTERN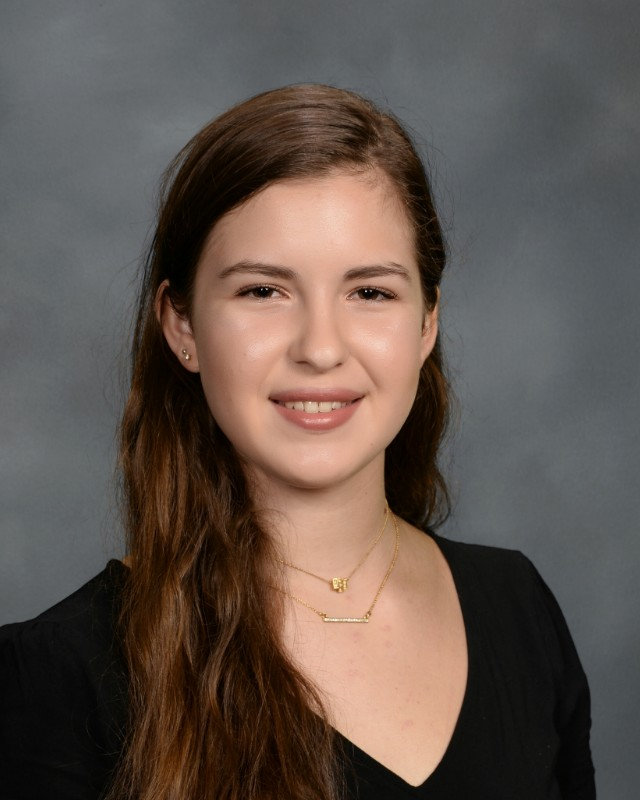 Bookworm Allison Reed is ready to start the next chapter of her life as she makes her way to Eastern University where she will major in English in hopes of one day working for a publishing company. 
For the past two years, Reed has been an integral part of the yearbook staff. With her exceptional Photoshop skills and commitment to the yearbook, it's no surprise that Reed became an editor this year. 
"As an editor, I reviewed the page layouts and filtered pictures for the pages of the yearbook and there were also occasions where I would restructure sections of the yearbook," Reed said. "My focus this year was creating cutouts and effects in Photoshop so that the highlights of the year could be featured." 
After months of tedious work and many lunch periods full of Photoshop work, Reed was overjoyed to have been a part of the yearbook staff. 
"Helping with the yearbook was gratifying because of all the effort that was put into it. The club is able to create a book that our classmates will be able to look back on for years and reminisce, and I'm so happy to have been a part of that," Reed said. 
Now that the yearbook is finished, Reed recognizes the many life lessons she has learned from being a part of the staff. 
"After being a member of the yearbook staff, I have learned how to work better individually and in a group to create the yearbook. Improving my work ethic in working by myself and with others is going to be beneficial later in life both in college and my career to follow," Reed said. 
Reed also understands that without these life lessons and yearbook advisor Mr. Madden, she would not be where she is today. 
"Mr. Madden has been one of the most encouraging teachers to me. He would edit my papers in his English Language and Composition class so that I can be confident in my writing. This, in turn, has supported my decision to major in English beginning next fall. Furthermore, Mr. Madden has urged me to expand the scope of literature I immerse myself in," Reed said. 
With that said, Reed is very excited to attend Eastern University where she will study through their Templeton Honors College established through the school. 
"The prospect of visiting Eastern University never appealed to me until one of the administration counselors talked me into it at a college fair. As soon as I stepped on campus I knew I had to get in," Reed said. "Just twenty miles outside the city of Philadelphia, the small campus was constructed around the Walton Estate, a mansion built in the 1910s for a businessman and his family, complete will a pond and functioning waterwheel." 
The minute Reed stepped on Eastern's campus, she knew that she was destined to go there because the college is truly like no other. 
"At Eastern, there is a certain atmosphere of community that I haven't seen replicated at any of the other colleges. Since the school is so small, the professors are able to help students as individuals rather than as a class," Reed said. "The diversity of students and faculty from different ethnic and social backgrounds on the grounds is refreshing." 
Having indulged herself in books for many years, it makes perfect sense for Reed to major in English. 
"I have always enjoyed reading, so my decision to pursue English is anything but surprising. When I was younger, I used to read books to the point where I didn't even have to look at the pages to recite the words. Through elementary and middle school my teachers would offer me book suggestions and motivate me to expand the genres that I was reading within," Reed said. 
As her senior year comes to a close, Reed simply cannot wait for all of the exciting adventures ahead of her. 
"At the beginning of the school year, the Templeton Honors College freshmen cohort takes a week-long camping trip in the Adirondack Mountains before the semester starts," Reed said. "I look forward to meeting new people and strengthening the relationships I already have with some of my peers during the excursion. I'll kick off freshman year knowing thirty other students also launching into the next stage of their lives." 
Reed will most certainly have a successful future as she turns the page and starts a new journey at Eastern University.