2018-2019–LABAR: AN ALL-AROUND SLATER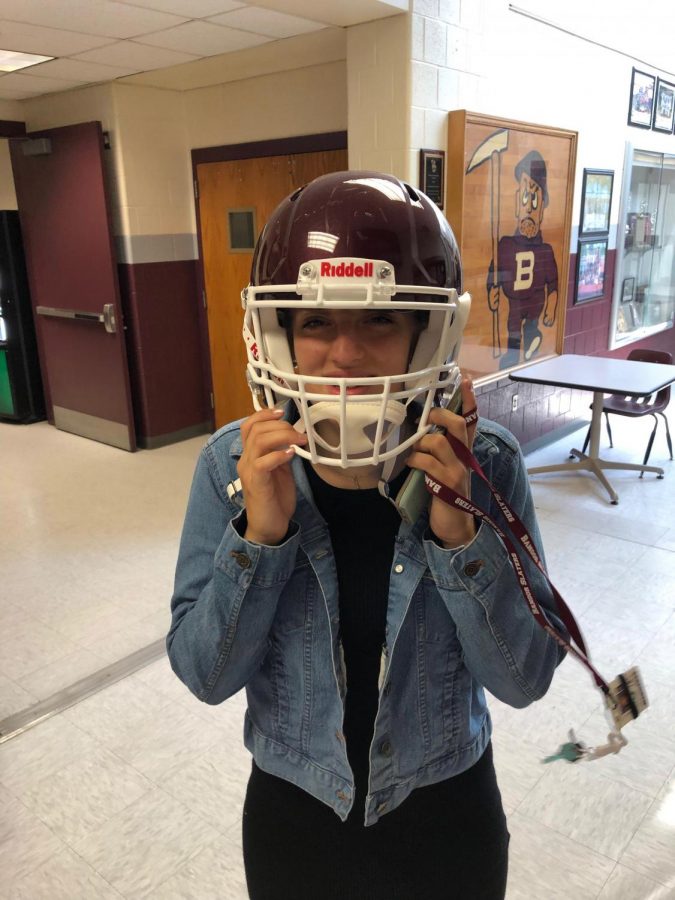 There has never been an off-season for senior Emily LaBar. As a four-sport athlete, LaBar has been more than busy throughout her high school career. From scoring lay-ups in basketball, to soaring over the bar in high jump, LaBar has most certainly earned her title as a BHS varsity athlete. 
At a young age, LaBar knew that she was destined to play sports. Her competitive personality paired with her athletic abilities made her the perfect candidate to become a multi-sport athlete. 
"Sports have always been a part of my life," LaBar said. "I'll try anything out for a season if I'm given the chance and the sports I did try I found a passion for and refused to give any of them up." 
From sporting red, white, and blue as a BVP cheerleader, to leading cheers on the track as a captain, LaBar has always loved being a cheerleader. 
"Cheerleading taught me how to carry tradition and lead the community," LaBar said. "Without a doubt, Pen Argyl week is the most exciting thing about being a cheerleader." 
When LaBar wasn't doing back handsprings on the track, she was lacing up her sneakers to run with the cross country team. 
"Cross country has made me mentally tough because I have a lot of self-doubt about some sports and cross country is just so demanding," LaBar said. "It taught me that training is important, but being mentally strong is even more important." 
After a successful fall season, LaBar tightened her ponytail and threw on her knee pads as she quickly prepared for her final season of basketball. 
"Basketball helped me get my anger out which was very obvious because I had foul trouble almost every game," LaBar said. "Being a part of the basketball team forced me to depend on other people and not put as much pressure on myself." 
With a District XI second place medal around her neck, LaBar was overjoyed to have had a noteworthy basketball season, but was even more excited to begin her favorite sport, track and field. 
"Track is definitely my favorite sport because I can try new events out whenever I want, I'm never stuck doing the same thing all the time," LaBar said. "I've spent the most time at high jump which has become my best event. It is just so much fun to do…unless I hit the bar. That is not fun. At all." 
LaBar first participated in track her freshman year and ever since then, her love for the sport has grown tremendously.  
"I wanted to try track in middle school, but my dad said no. However, once I got in high school, I told him track and cross country pretty much go together and he believed me," LaBar said. "Turns out, I didn't even do distance in track so he was confused, but he probably enjoys watching track the most." 
LaBar was a strong competitor in various events, including high jump, long jump, triple jump, and the 4X1. 
"I've always been motivated to achieve success in track. I like scoring for the team, we've had one of the best seasons we've had the past couple of years," LaBar said. "I also wanted to break the school record for a long time so I was really focused on working to get the record." 
With three years of experience underneath her belt, LaBar was  ready to go out with a bang for her senior track season. 
"My goal for this season was to break the high jump record, have a really good time in the 4X1, and to PR in long and triple jump," LaBar said. "I was also hoping to medal in at least 3 events at leagues and to place in the Allen Invitational in high jump again." 
LaBar rose to new heights this season, breaking the high jump record with an astonishing jump of 5'5 and a PR of 52.12 in the 4X1 at the Allen Invitational on April 18. 
"Breaking the high jump record was unbelievable actually. It took me to my third attempt and then when I did it, I ran over to coach Hartzell and we were both so shocked, but happy," LaBar said. "Then I went for a slightly higher height and I choked because I was just way too excited." 
Without a doubt, LaBar would not have had such a phenomenal season if it wasn't for coach Hartzell. 
"Coach Hartzell has been with me since middle school; starting as my basketball coach and then becoming my cross country and high jump coach in high school. He was even at most of the football games, so he's been with me through every sport I've done, which means he's seen the real ugly, sad, and frustrated," LaBar said. "Hartzell has become someone that I can go to about my problems and not only my athletic ones. He has helped make me the athlete I am today, and I don't know what I would have done without him. Coach Hartzell has just brought a lot of positivity in my life and it'll follow me where ever I go. I'm so honored to have had him as a coach." 
After having a stellar senior year, LaBar is excited to continue her academic and track and field career at Lock Haven University to major in physical education. 
"I decided to attend Lock Haven University because it reminds me of home and because it's the same color as Bangor so I don't have to buy new clothes," LaBar said. "I've always wanted to major in physical education because I love kids and sports,  so having both together would definitely be a job I would enjoy." 
With this education, LaBar hopes that she can one day score a job as a gym teacher in the Lehigh Valley and open her own personal training gym to work with high school athletes on their specific sport of choice. 
Without a doubt, LaBar has had an admirable high school career and we are all extremely grateful for her unwavering devotion to BHS athletics. 
"As I graduate from BHS, I hope that I'm remembered for my dedication to my athletics and academics and I hope that I can be an example to other people who also want to participate in four sports," LaBar said.