SENIOR POWDERPUFF SECURES GOLD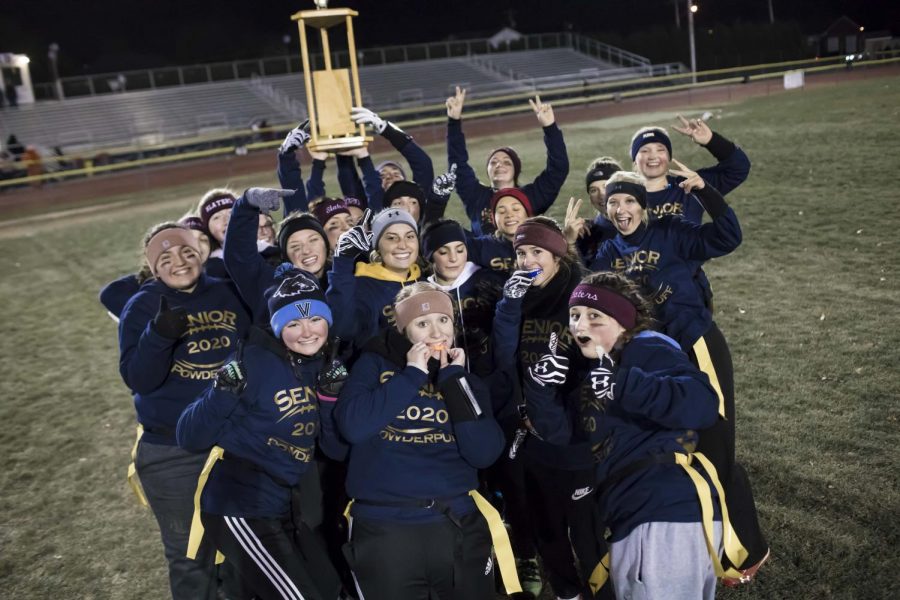 Braving bitter temperatures, the senior powderpuff team put together a championship performance in front of adoring fans. The seniors, coached by Mr. Thomas and Mr. Egner, after three years of losing finally managed to achieve their long-awaited dreams of obtaining a championship title. 
"I was so happy we won. I knew we could do it because we've always had a good team in the past but to finally win was super exciting," senior Danielle Hess (QB) said. 
During the first game the lively seniors dominated the field, or rather the end zone, against the timid freshmen and secured their spot in the championship with a score of 42-0. The 
freshmen, instructed by Mr. Kichline, showed great enthusiasm and a love for the game but in the end fell short of being able to compete with the experienced seniors. 
"Playing the seniors was super intimidating. They were the bigger and older girls and we weren't completely prepared to play them. We walked onto the field thinking we were going to try our hardest but at the same time we were all scared. Losing was rough and we all of course wish we could've won," freshman Caydence McLain (RB,WR) said. 
The next game of the tournament between the juniors and sophomores was an intense back and forth with each team adjusting to the other. The sophomores coached by Mr. Madden, Mr. Krohn, and Mr. Perelli came out aggressive and moved up the field quickly. Nevertheless, the strong-willed juniors came ready to play and proved that their hard work during practice with Mr. Smith and Mrs. Buck did not go to waste. This intense game ended with a winning score of 14-7 for the juniors in overtime. 
"We felt pretty confident going into the tournament this year. We especially wanted to win  when we heard people saying 'the juniors haven't won a game yet'. By beating the sophomores we were able to prove them wrong," junior Sarah Harvat (WR, LB) said. 
Though the freshmen and sophomores each suffered tough losses in their first games, they had the opportunity to prove themselves once again in a consolation game. The skilled sophomores secured their only win of the night with a score of 7-0.
With the end of the consolation game brought the championships. Both the junior and senior teams walked into the final game of the night with the adrenaline pumping and shining trophy in sight. 
The tension high game between the upperclassmen finished with a score of 20-0, crowning the seniors as the 2019 Powderpuff champions. 
"Finally winning felt AMAZING! We were terrible our freshmen year so seeing how much we've grown as a team was great and finally being recognized for our hard work was amazing," senior Morgan Karasek (RB, WR) said.