THE OLD AND THE NEW: CINDERELLA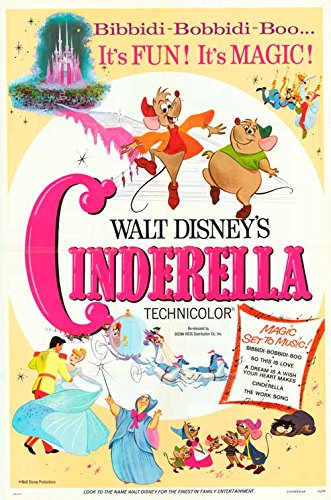 After losing connections with the European film market, facing millions of dollars in debt and many box office bombs, Disney finally delivered a success that will be known throughout the decades as Cinderella (1950), much like its movie counterpart.
Cinderella (1950) is an animated musical film, with the mystical setting Disney is renowned for. Cinderella (2015) is the one of many counterparts of the original. Both were beautifully classic, expanding vivid and endearing characters, creating memorable songs and including gorgeous detail perfect for the entertainment of families. Perhaps a nostalgic story for multitudes of people after so many years, ranging from decades to only a few years, but it is sure a joyous stroll through time and remembrance.
After the tragic loss of both her parents, Ella, nicknamed Cinderella (voiced by Ilene Woods (1950)/ performed by Lily James (2015)), only has her stepmother and two stepsisters who treat her cruelly unfair. Lady Tremain (Eleanor Audley (1950)/ Cate Blanchett (2015)) is jealous of Ella's beauty and grace, while Drisella (Rhoda Williams (1950)/ Sophie McShera (2015)), and Anastasia (Lucille Bliss (1950)/ Holliday Grainger (2015)) take advantage of her. The kingdom is invited to a ball held for the Prince Charming (William Phipps (1950)/ Richard Madden (2015)), but when Ella fashions herself with her mother's dress to attend, the stepsisters tear it apart and leave her to continue doing chores.
Storming to the garden, her Fairy Godmother (Verna Felton (1950)/ Helena Bonham Carter (2015)) appears and prepares her for the ball, transforming her dress into a shimmering blue ballgown and her shoes into glass slippers.
However, the magic wears off at midnight, and when it does, she runs off without even sharing her name to the Prince with whom she succumbs to dancing. In order to protect herself and not face the wrath of her stepsisters and stepmother, she hides her identity while a party continuous searches for the missing princess.
Following the classical good versus evil arc, Cinderella is a fairly easy plot line for anyone to enjoy. The characters, as they are known, are the heroine, the gorgeous love interest, and the despicable. However cliché it may be, the audience still cheers for the young and fair maiden who has a good heart and the dashing and charismatic prince who is bold and brave, while they shun the loathsome stepmother and her vicious cat, fittingly named Lucifer. They are prominent features in both the original and its reimagining, but the 2015 update further elaborates on the details of the characters and their stories. It is precisely learned why Cinderella believes in magic, why she chooses to stay with her awful stepmother, how she became a servant in her own house, and why she maintains her courage and kindness. It even gives the stepmother a clearer motivation.
Stories have many lessons, and just like any other, Cinderella teaches the morals of kindness, forgiveness, and hope. Always be kind no matter what, as even a little kindness can go a long way. Although Cinderella's kindness may make her seem like a pushover, it takes strength to remain that kind to all those around. Finding worth within herself, she takes chances and conveys impeccable bravery by arriving at the ball, even after her stepsisters previously tore apart her dress. Determined in her ways, Cinderella does not give up when things become rough for her, aspiring for the best and striving to still have faith in her dreams. She forgives her stepmother and stepsisters, despite the fact they terrorized her as a child, she still found it within herself to be gentle and to move forward in her life.
Above all else, Cinderella also strives to influence parents and to teach children that no matter what, when they put their mind to whatever they are doing and they have faith in themselves, they can achieve the impossible. Keep on dreaming, and along the journey, spread kindness and strength amongst peers, no matter whom.