SLATER SPOTLIGHT: KATELYNN ROSCIOLI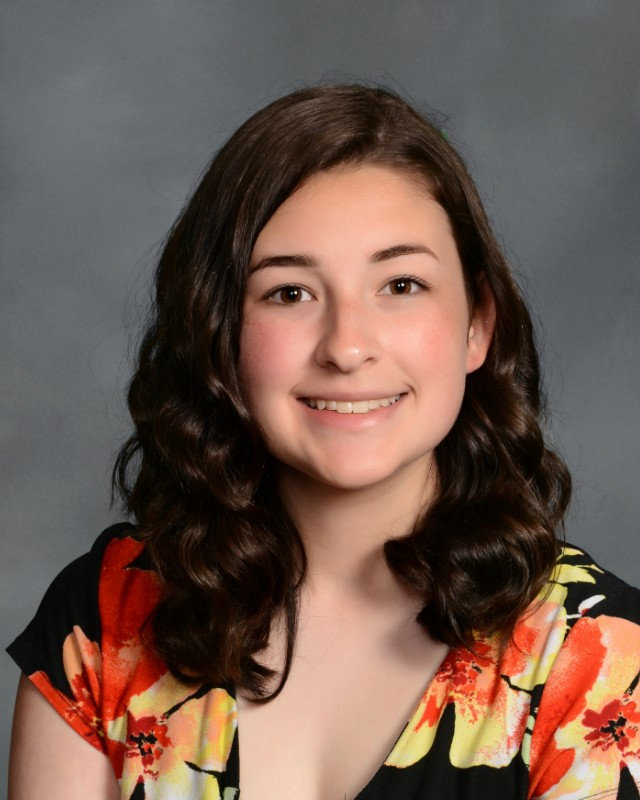 Katelynn Roscioli, virtuoso and ambitious student, has participated in a variety of clubs, sports, and musical ensembles throughout her high school career. After graduating this year, she will attend Olivet Nazarene University in Illinois to major in music education and minor in French.
What three adjectives would your friends use to describe you?
My friends would describe me as compassionate, generous and encouraging.
What sports, clubs, organizations, jobs do you have and what are your positions in each of these activities?
I played the clarinet for marching band, pep band, concert band and symphonic band, and I played the alto saxophone for jazz band. I play the bass guitar and sing for the adult praise band at my church and also participate in my church's youth group.
I am also the Vice President of our school's French Honor Society, secretary of our school's National Honor Society, and secretary of the Senior Class Cabinet. I played soccer for the Slate Belt and also participate in Bangor's Summer Volleyball League. I am currently employed at Dollar General.
Which friend or friends will you miss most from Bangor and why?
I will miss my closest friends the most: Brooklyn Werkheiser, Heather Heath, Cayla Stiles and Aubrey Tarr. They have been the most encouraging, supportive and wonderful friends I could have ever asked to be by my side throughout high school. Though, I will miss everyone so much.
Which teacher influenced you most or who will you remember most from Bangor and why?
Dr. Martinez, the French language teacher, has been the most influential in my life during my high school career. She has always been the most caring, understanding and encouraging mentor and has been an incredible example of character for all of her students. She embodies everything that I intend to be as a teacher in the future.
What is your best high school memory and why?
My best high school memory has to be my last marching band performance. All four years of hard work, dedication and passion were left on the field and it was one of the most emotional and incredible performances I had ever been apart of.
What is your worst high school memory and why?
That one time I bleached about half my hair was pretty bad but for the most part everything else was great!
Which band could play the soundtrack to your high school career and why?
Lemonade Mouth because I have a lot of memories throughout high school pertaining to their songs (the lip sync specifically).
If there were a movie made about your high school days, which actor would play your part and why?
I don't feel educated enough on actors/actresses to answer specifically, but anyone who has the ability to play a really musical, chaotic, stressed, and exhausted character.
When you arrive at school in the morning, where is the first place you want to go and why?
I always want to go straight to the band room, as it has been my home for the past four years and those who are in band have become my family. That, aside from having to put all my instruments away because I do not have enough hands to carry everything.
Where do you predict you'll end up ten years from now and why?
I see myself working in a school setting with student musicians, either directing or teaching music. I want to be able to allow future generations to have the same incredible opportunities I have had throughout my education to find their belonging and express themselves unapologetically through music.
Which event, events will you miss the most and why?
I will miss all of my high school band ensembles the most, specifically marching band. Music has a very powerful way of bringing individuals together, and I have countless memories which I will always cherish from my high school days in band as well as bonds with others made through music that can never be broken.
What is your favorite quote to live by and why?
My favorite quote is actually a verse, it states: "Love is patient, love is kind, it does not envy, it does not boast, it is not proud. It does not dishonor others, it is not self-seeking, it is not easily angered, it keeps no record of wrongs. Love does not delight in evil, but rejoices with the truth. It always protects, always trusts, always hopes, always perseveres. Love never fails." (1 Cor. 13:4) These are all characteristics I strive to maintain throughout my life.
What inspires you to create art?
Capturing and expressing the beauty of all of life's moments.
What sparks your interest in technology?
The ability of technology to not only improve lives but to also save them.
What is your favorite hobby and why?
Learning new instruments is my favorite hobby, as it not only prepares me for my future career in music but also allows me to express myself and brings joy to not only myself but those around me as well!
If your could travel anywhere, where would it be and why?
I would travel to France as it would allow me to experience the French culture in full and to gain more experience in speaking the French language.