Top 10 Adorable Fall-Themed Crafts
With the new school year comes the same old fall season, and with fall comes its many blessings. You get to see the leaves fall from the trees in vibrant reds, oranges, and yellows, as well as spend time with friends and family. During this get-together season, you may want to get creative and impress your loved ones. If so, then you've come to the right place! Here are some fall-themed crafts that will surely get your guests' heads turning for this autumn season.
Rick Rack Pumpkin
A simple yet adorable decoration, Rick Rack pumpkins have the cute effect of carving said pumpkin without the hassle and mess. All you need is some Rick Rack trim, which you can get at your local craft store, and some glue, and you'll have yourself an adorable jack-o-lantern without the lantern.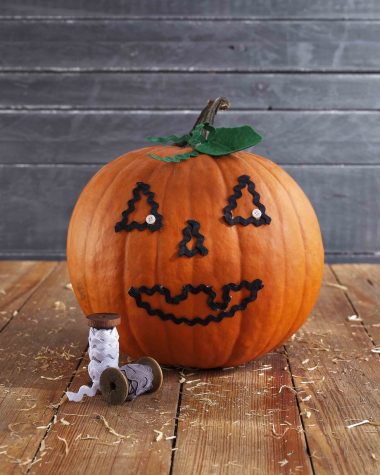 Gnome Pumpkins
Another adorable, crafty little critter, these pumpkin gnomes are easy to make and give a whimsical little charm to anybody's life. All you need to do is trace this template we borrowed from Country Living on wool fabric. Size is adjustable, so don't worry; any pumpkin can rock a sweet gnome hat. Fill the hat with some cotton to make sure it sits upright. After that's done, glue your hat down on the pumpkin and fetch yourself a woodcraft bead to glue on for his nose. Then, all you need is some yarn to create his beard, and you'll be done!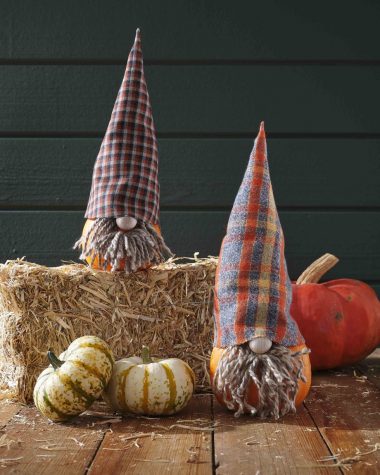 Pumpkin Checkers
A rather simple yet creative board one can make, all you need for this craft is a 30-inch wooden board, paint, and a bunch of little pumpkins to act as the pieces.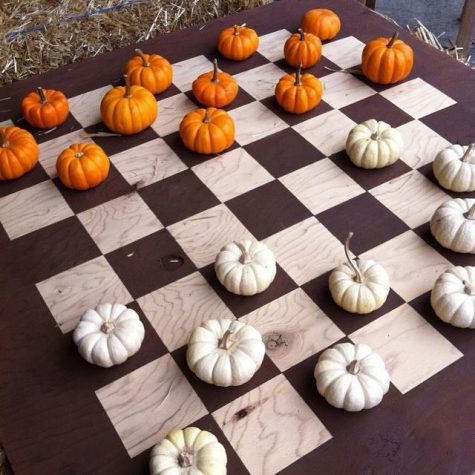 Button Napkin Ring
Another simple craft that can blow guests away, looking beautiful in an elegant way. All you need is a wood button and some thread. This napkin holder will spruce up your dinner table for Thanksgiving, right?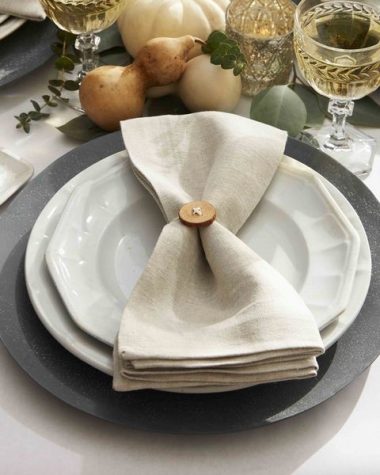 Honeycomb Pumpkin
This one's a little out there, but hear me out before you scroll! This pumpkin design is both cute and creative and can last throughout the whole fall season instead of ending once Halloween is over. Cut a hole in the top or bottom of the pumpkin and scoop out all its icky insides. Once done with that, draw with a pencil a honeycomb pattern on the front of the pumpkin. Only cut out a few of these shapes, however! The rest will be painted over to give it that cool honeycomb look.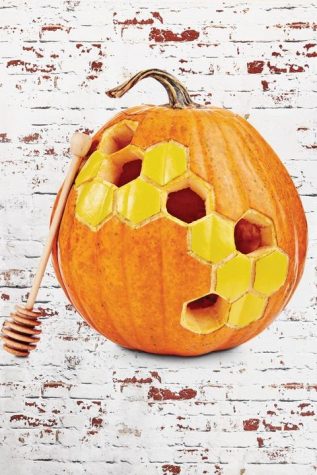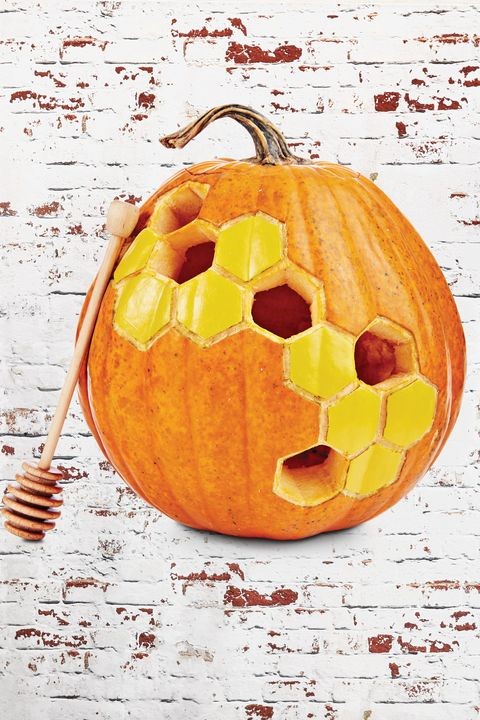 Toilet Paper Pumpkins
Yes, this is yet another craft that involves pumpkins, but you got to admit that this is just downright adorable, right? Follow the tutorial here to make adorable toilet paper pumpkins for your home too.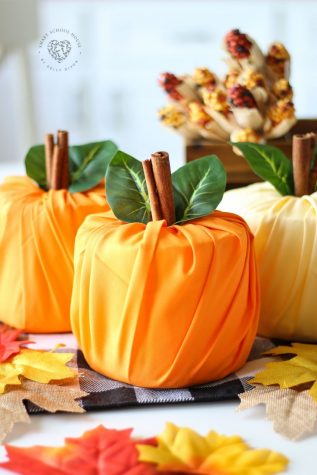 Fall Embroidery Hoop Wreath
A simple yet stunning creation that is sure to catch people's eye! This fall-themed decoration only needs faux fall flowers, a wire cutter, a glue gun, and of course, the embroidery hoop. Just simply use the wire cutters to trim your flowers into their desired pattern, and use your hot glue gun to glue the flowers to the hoop, and you're done. A beautiful and easy design.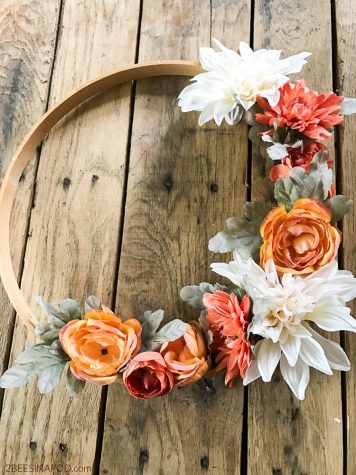 Spin-the-Pie Game
This is not only a simple little craft that's fun to make, but you can use it with family and friends to help recall what you're grateful for. Simply segment a paper plate into six different sectors, and write a small prompt in each. These don't have to be lengthy, just simple one-word prompts like "pets" or "family" will do. After that, attach a paper wheel with a section cut out, and pin it all together with a gold brad. Decorate it as you see fit, and you'll have yourself a beautiful spin-the-pie game.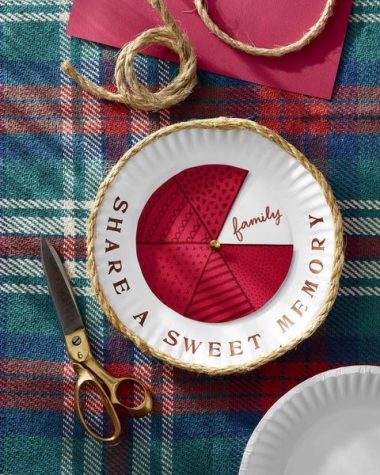 Mini Pumpkin Turkeys
We have some more tiny pumpkin crafts for you, and this time, we're turning these little guys into turkeys. All you'll need are some mini pumpkins, acrylic craft paints (for their cute little faces), craft paper (for their tiny tails), hot glue, and scissors. You can either find the proper tutorial here or try to do it yourself!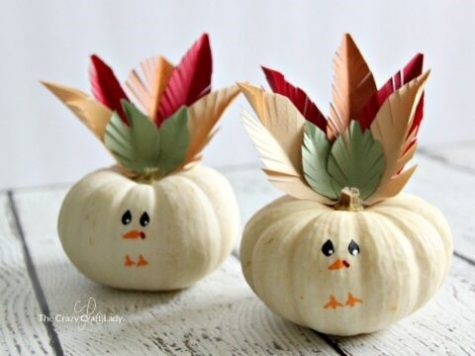 Gold-Dipped Corn Husk Wreath
Last, but certainly not least is this beautiful, fall-themed wreath. To make this craft, wrap some corn husks around an 18-inch diameter straw wreath. Use a hot glue gun to adhere the edges onto the said wreath. You'll need roughly about 35 wreath husks to fully cover the straw wreath. After that, use a foam brush to paint the tips of an additional 48 corn husks with golden acrylic paint. Allow them to dry for fifteen minutes. Once dried, you will then begin to place the corn husks onto the wreath with hot glue, starting with the outer edge. Create three 'rings' using sixteen cornhusks for each consecutive ring. For the second and third rings, position the tip of each corn husk between two corn husks from the previous ring. Once you do that, your wreath should be complete!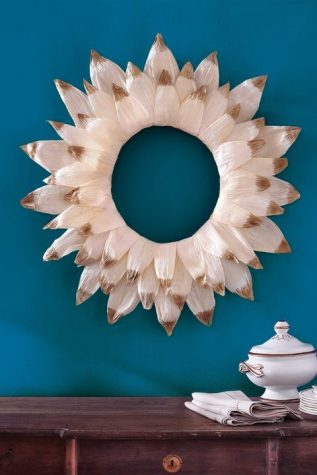 And that's it! Ten beautiful fall-themed crafts that are both creative and charming, adding a unique spin to the traditional fall-themed decorations. I encourage you to try them out yourself, or with friends and family. After all, this season is all about spending time with loved ones, and what better way to spend time around those you love than creating something with one another?
If you want to find even more amazing craft ideas, go check out the following websites where we found our original craft ideas.
https://www.countryliving.com/diy-crafts/g1533/fall-crafts/?slide=26
Rickrack Pumpkin Face
Gnome Pumpkins
Pumpkin Checkers
Button Napkin Rings
Honey-Comb Pumpkin
Toilet Paper Pumpkins
Fall Embroidery Hoop Wreath
https://www.countryliving.com/entertaining/g2063/thanksgiving-craft-ideas/
Spin the Pie game
Mini Turkey Pumpkins
Gold-Dipped Corn Husk Wreath