Allison Steinert: Most likely to sing on Broadway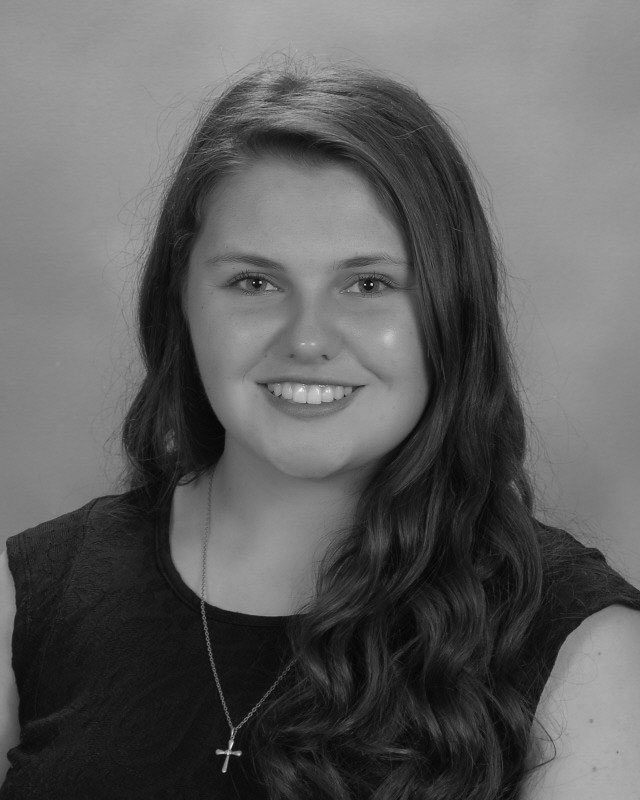 Musical maven Allison Steinert has made her mark at Bangor Area High School and is ready to take the next step as she continues her education at Susquehanna University majoring in voice and music education.
What is your best high school memory and why? 
Best high school memories are when our Choir and Band won every award for our competitions. I love these groups and we always did awesome because we have the best teachers.
What club/activity/sport means the most to you to have been a part of and why? 
Being a part of the musicals and being in the marching band are some of my favorite activities. I loved being able to perform onstage every year, it is probably my favorite thing in the world. Getting to do such amazing shows with this family is just incredible. Being the Drum Major for the marching band was an amazing experience as well.
What was your biggest accomplishment during high school and why? 
My biggest accomplishment during high school was making All-State Chorus. This has been a dream of mine and it was such an amazing experience that I will never forget.
 If you had to pick one emoji that described you, what would it be and why? 
I would probably say that awkward smiling one. I feel like every time I'm in a weird situation or don't know what to do I just sit there awkwardly smiling haha.
When you arrive at school in the morning, where is the first place you want to go and why? 
Choir room. The choir room is like my home, actually I think I spend more time there then I do at my actual house. It's just such a great environment in the music wing.
Who influenced you most during high school and why? 
Definitely Mr. DiMinico. I loved being able to have his classes throughout high school. He just has such a passion for music and teaching and you can really tell that he loves what he's doing. His love and excitement for music inspired me to pursue music for my career. I don't even know where I would be if he didn't help and support me in my whole music journey.
What is your favorite quote to live by and why? 
"Faith will give you wings" I love this quote because it basically says that as long as you believe in yourself you can always fly. So as long as you believe in yourself you can go anywhere and do anything.
What is your favorite memory from this year's musical? 
Honestly the entire experience. There is not a moment I didn't love. Getting to be a part of such a beautiful story was truly magical. I really loved getting to be "Belle" for the kids. Getting to see so many kinds who were so excited to meet you was so amazing. I am so overjoyed that I was able to make so many children happy during this experience.
If you could repeat any scene from a musical you participated in, what would it be and why? 
I would do the ballroom scene one more time. This scene is just such a classic and it felt like a fairytale to be in it. Being in that gold ballgown and dancing to that song with "the beast" was just amazing.
If you could appear in any musical on Broadway what would it be and why? 
Right now, I would say Anastasia. This is on Broadway right now and the music is just fantastic. I loved this movie growing up and the musical looks so amazing.
Who is your favorite actor on Broadway and why? 
Lea Salonga. She has the voice of an angel; she probably is an angel. Her voice could bring anyone to tears.
What clubs/activities, sports were you involved in throughout high school? 
Musicals, Marching Band, Girls Tennis, Chamber Choir, Women's Chorale, Pep Band, National Honor Society, French honor society,
What does it mean to you to be a Slater? 
Being a Slater to me means being proud of myself and my school. I am proud of our school and the opportunities that I have had here and in the music department. I am so proud of what we have been able to accomplish over my high school career.
Where will you be attending college next fall and what will you be studying? 
I will be attending Susquehanna University next fall. I'm going to be majoring in Voice and Music Education with a minor in theatre.
Where do you predict you'll end up ten years from now and why? 
I honestly have no idea haha, but that's what I love about music. There are so many different roads and opportunities that are going to come up and I can't wait to see where life takes me. Of course I hope to still be performing and even teaching at some point.
Why did you decide to participate in musicals? 
I decided to participate in musicals because it was a combination of everything I loved. I always loved singing and acting, and dancing is just so much fun. I can't even imagine anything better than musicals.
What was the first musical you participated in? 
The first musical I was in was Bye Bye Birdie at the high school when I was in 6th grade.
What was your favorite part about being Belle in this year's musical? 
My favorite part about being Belle was the music I was able to sing. Not only do I love this show and character, but the music is just so beautiful. The songs that I got to sing every night could bring me to tears; they are just so powerful and have such beautiful meanings.