Seniors score victory in floor hockey tournament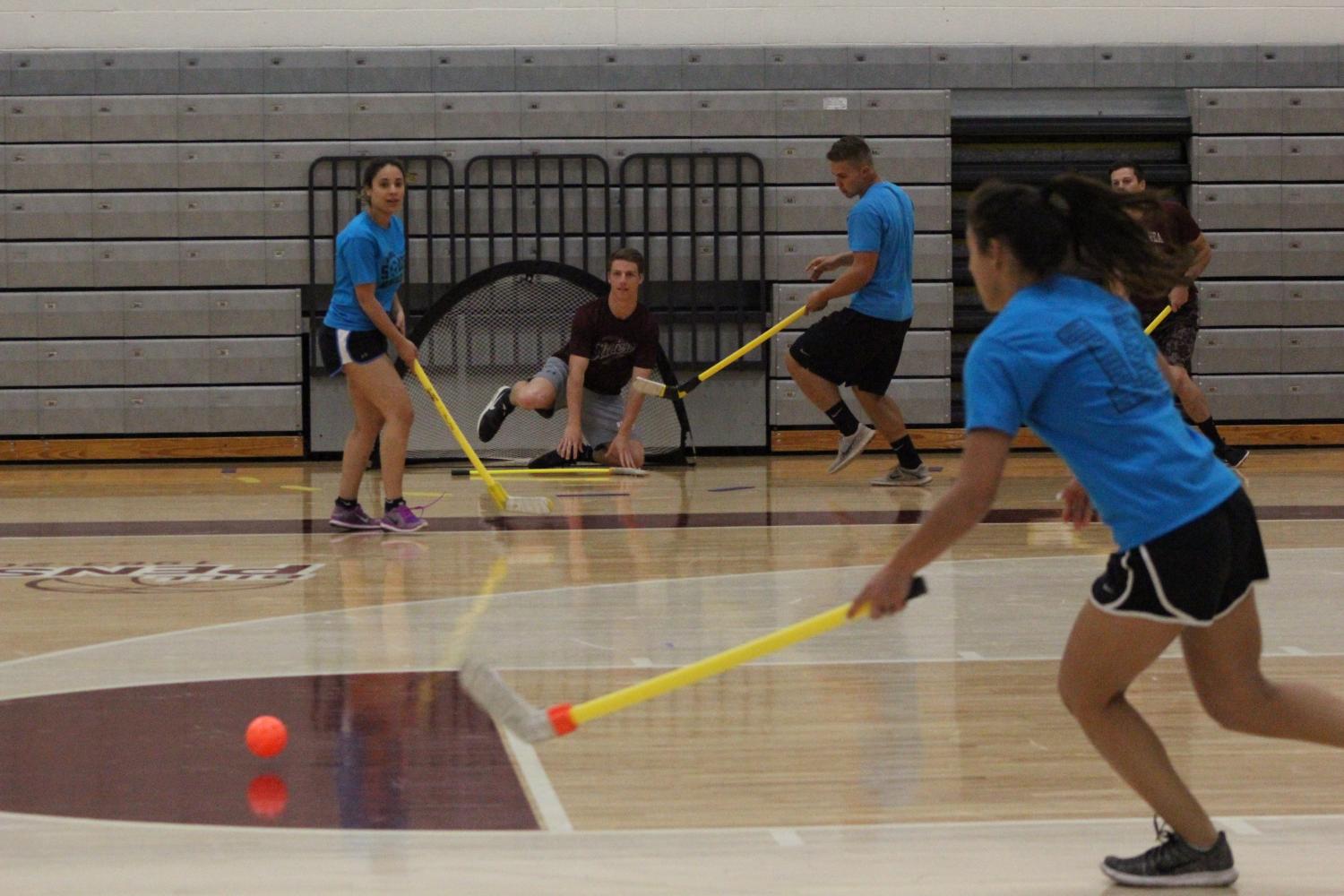 SGA held a floor hockey tournament as their final Clash of the Classes event of the school year on May 12.
The event ended with the senior team 'Mike and the Band' going against the team of teachers. Exhausted from their previous games, both the seniors and teachers had to muster the little energy they had left to play against their toughest opponent. Tied for a majority of the time, it wasn't until senior Tim Gonzalez scored the first goal that the seniors took the lead and were able to keep it for the remainder of the game.
"Even though it hurt a lot to play after coming off of an injury, it was such a good feeling to win," Gonzalez said. "It was an even better feeling to beat Mr. Ambrosious though."
Although the seniors had already won the Clash of the Classes title for this year, each team tried their hardest to beat out the other classes by using their best floor hockey skills.
"I had a blast at the tournament," senior participant Emme Lentine said. "It was great to win against the teachers and I would totally do it again."
Hosted by seniors Tim Ferguson and Seth Benton, the floor hockey tournament was a huge hit for everyone playing, as well as everyone spectating.
"I enjoyed watching the floor hockey tournament," sophomore Hannah Frankenfield said. "My adrenaline was pumping for my class to win, but hey, you can't win them all."
One of the toughest teams to beat, the teachers, were able to pull their weight and show the entire school what they were made of.
"I had a fun time playing in the field hockey tournament," Mrs. Buck said. "I played my hardest, but my team lost so that always stinks."
Since the field hockey tournament was so enjoyable for those who participated, some teachers hope that in future years even more students can get involved in the event.
"I think that the field hockey tournament is always a great thing for the school to participate in, however, I wish that more people could play in it in order to get more of the school involved," Mr. Ambrosious said.
Due to the fact that two games were being played simultaneously, the gym was jam-packed with action, keeping everyone's attention.
"I had a great time at the floor hockey tournament, I found myself focusing on one game and then realized I was missing out on the other one, so I was always busy and had a great time," sophomore Gianna Graziano said.
Overall, the field hockey tournament was enjoyable for the entire student body and is sure to continue as a successful event for years to come.