LEARN CAPTURES LIFE THROUGH LENS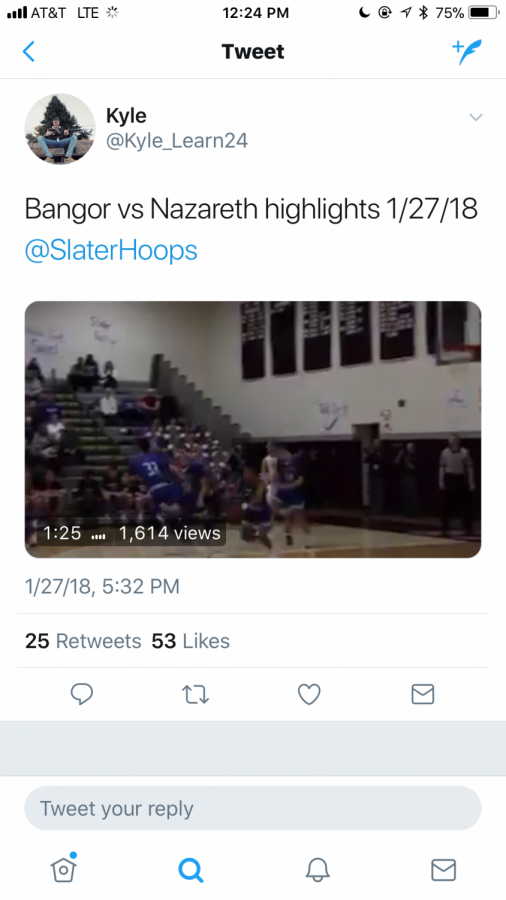 Bangor High School junior Kyle Learn has distinguished himself as a popular amateur photographer and videographer. Learn recently earned the honor of being retweeted by the Slater Athletics Twitter account for his impressive basketball highlight videos published on YouTube and Twitter.
"I thought it was a good way to showcase my skills and at the same time support Bangor Basketball, as well as produce content people actually want to see," Learn said.
As a result of Learn's impeccable work, LVBR has contacted him via Twitter asking to use his footage. L&L Running Rebel's AAO basketball team has also offered him a job to film for them.
Learn has come a long way in the past year. Publishing his first video "Winter Sledding" in February 2017, Learn captured himself and his friends riding through snow after a recent snowstorm in a car, on a quad, and on skis. Learn used every camera angle to ensure that the viewer could see every snowflake. Jazzy music in the background helped to set the lively mood.
With a growing 332 views on YouTube, 54 likes and 25 retweets on Twitter, Learn's videos are gaining popularity, but he continues to remains true to his creativity. The opportunity to film the Bangor Basketball team, as well as his other videos, gives Learn knowledge he can use for a lifetime.
"I just want to have experience and knowledge of filmmaking so I am prepared for when I pursue a career in it in the future," Learn said. "I plan on filming an entire short film this summer, and need all the experience I can get."
For the general public, Learn's videos are available to view on YouTube (Kyle Learn). He also posts all of his content on his personal Twitter account (Kyle_Learn24).
Subscribe and follow his accounts to support a fellow peer, student, and community member.