COACH HOLLAND LEAVES LEGENDARY LEGACY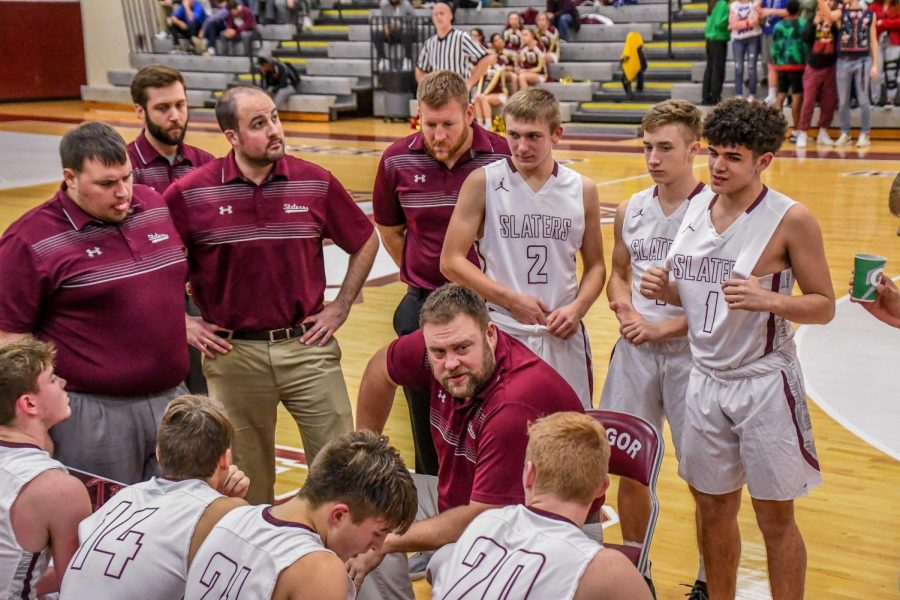 Earlier this week, legendary head basketball coach Bron Holland announced his resignation from the program. After twelve seasons of nonstop success and an astonishing record of 217-85, Holland's legacy will live on in Slater history forever.
Holland's final season unfortunately ended with a tough loss to Pottsville on Feb. 25, which provoked some emotional reactions from his son, senior Ben Holland. Despite the unexpected ending, the Slaters finished the season with a winning record of 16-9.
"It was a bittersweet feeling when I realized I wouldn't put a Bangor basketball jersey back on again. It was extremely hard to accept the fact that my high school career is over," Holland said. "It was just as hard realizing I won't play for my dad anymore. If I continue to play in college it will be a whole new experience and will be hard to adapt to."
Once Coach Holland made the bold decision to step down as head coach, he was left with time to reflect on the outstanding impact he has made on the Bangor basketball program.
Starting in 2007, Holland transformed the program that hadn't had a winning season in nineteen years. 
"A culture of confidence, hard work, and maintaining success had to be developed," Coach Holland said.
After a dozen consecutively successful seasons, Holland seems to have perfected coaching on and off the court. Under his direction, the Slater boys have made it to nine consecutive Colonial League tournaments, winning five and reaching the finals twice.
"Since we hadn't won a championship since 1988, winning the first championship was a huge relief. There's nothing like winning a championship and they were all equally enjoyable. The best part of being a head coach is seeing your team enjoy this experience," Coach Holland said.
Holland has also brought the Slaters to the District 11 tournament eleven consecutive times and has reached the finals twice since the beginning of his career. 
"We reached the District XI finals twice and unfortunately came up short both times. We got beat by Parkland and Central Catholic which are two of the premier programs in the Lehigh Valley. I believe we were also one of those premier programs and I'm extremely proud of our teams," Coach Holland said.
Holland is no stranger to winning, as he led his own basketball team under the direction of coach Bill Pensyl to three consecutive Colonial League titles during his high school career. He also managed to compile an impressive 1,619 points and 1,023 rebounds.
"I am extremely blessed to have coached at my alma mater. My father played on Coach Pensyl's first team in 1963 and many of my family members played for Bangor. There are no words to describe the pride I have in Slater Nation. Passing along our traditions and culture are the best part of the my job as athletic director," Coach Holland said.
As Coach Holland retires his title of head basketball coach, he is still close to the court in his role as athletic director for the Bangor Slaters.
The Slater community offers a sincere thanks to Coach Holland.